Top Tourist Destination In Nepal.
We would like to include these 13 destinations most conquered in our country prudency. All nature's allure and atmosphere has a special presence of our visit with most scenic mystic and beauty. Nepal's culture, inhabitation and land routes have been there in our ideas , context and accomplishments. There's more to our sensation in our tour……advent and real excursion.
Everest Base Camp Trek.
EBC trek is one of the finest treks in the world that centers on the world's highest peak Mt. Everest (29,029 ft/ 8,848.68m). This journey (5,364m /17,598ft) will provide you with a natural thrill as it takes you through breathtaking high-altitude landscapes, Buddhist monasteries, traditional Sherpa culture, high-altitude animals, and snow-capped mountains. An Everest base camp trek is the adventure of a lifetime, a journey for those whose dreams soar higher than even the clouds. Miles from cars, convenience.
nces, and daily luxuries, you'll saturate your spirit in natural beauty and stretch your personal endurance beyond what you thought possible. . For active adventurers not afraid to break a sweat, our full trekking support staff will bring you close to local cultures before opening a window to the top of the world.
Trip Highlights:
World's highest airport at Syangboche (3,780m / 12.402ft)
Chance to explore the culture and lifestyles of the local Sherpa people
The magnificent views of the world's highest peak, 8,848.68m/29,029 ft.
Views of other peaks such as Mt. Lhotse(8,516m), Cho Oyu (8,201m) and Mt. Makalu (8,463m)
Explore Sagarmatha National Park
Prayer wheels, colorful flags, Mani stones, high suspension bridges
Wide range of flora and fauna
Ancient monastery in Tengboche (3,867m / 12,687ft)
musk deer, colorful pheasants, snow leopard, and Himalayan Thar like Wildlife
Highest glacier on Earth- Khumbu Glacier (4,900 m)
Amazing panoramic views from Kala Patthar (5,555m)
Outline Itinenary
Day 01 :Arrival in Katmandu.
Day 02 :Fly to Lukla from Kathmandu (2,820m) and trek to Phakding 2,640 M (30 minutes flight and 3 hours walk).
Day 03 :Day 03: Phakding to Namche Bazaar (3446m) 6 hour.
Day 04 :Rest Day at Namche Bazaar.
Day 05 :Namche Bazaar to Tengboche (3867m) 5 hour.
Day 06 :Tengboche to Dingboche (4300m) 5 hour.
Day 07 :Rest day at Dingboche for acclimatization and outing.
Day 08 :From Dingboche Trek to Lobuche 4,930 m – 5 hrs.
Day 09 :From Lobuche Trek to Everest Base Camp 5,364 meter and come back to GorakShep 5,180 miter – 06 hours.
Day 10 :From GorakShep Hike up to Kalapathar 5,545 meter and trek to Pheriche 4,240 meter – 5 hours.
Day 11 :From Pheriche Trek to Namche Bazzar- 6 hours walk.
Day 12 :From Namche Bazzar Trek to Lukla – 4 hrs.
Day 13 :From Lukla Fly back to Kathmandu and transfer to your Lodging.
Day 14 :Final Departure/Farewell.
2. Annapurna Circuit Trek:
Annapurna Trek through the incredible Annapurna region and be awed by the Nepalese Himalayas. These snow-capped peaks, mist-shrouded valleys, isolated communities and remote monasteries will inspire those with a bold spirit and a yearning for a definitive nature experience. Reach altitudes of more than 5000 metres, discover the ancestral traditions of the local people and immerse yourself completely in the spectacular mountain wilderness of the Annapurna Circuit. This is a challenging trip, but the sense of accomplishment will leave even the most seasoned trekker with some unforgettable memories.
Trip Highlights:
The Thorung La Pass, at 5416 meters (17769 feet) is the highest point of the Annapurna Circuit Trek
Tamang village with exquisite views of Manaslu, Lamjung , Annapurna and other mountain beauties. .
More to our experience view of tall trees towards the alpine grass and junipers, we reach meadows where a few horses and a number of yaks graze.
The serene environment with meadows and steep slopes of Yak Kharka.
Thorung La Pass,the trail is believed to have been used for hundreds of years to take sheep and yaks in and out of Manang along with other trading goods.
Besides these yawn and trails beautiful marsyangdi river,gorges and low runners,and waterfalls.
musk deer, colorful pheasants, snow leopard, and Himalayan Thar like Wildlife
Magical Hindu Temple of Muktinath, the Jwalamai temple with a spring and an eternal flame as well as the 108 water spouts that pour holy water. These are visited by thousands of pilgrims every year.


Beautiful town of Manang with cultural population and aging but fuited monasteries in all places. Many monasteriers are magical with guened arts and praises.
Outline Itinenary
Day 01 :Arrival in Kathmandu, (1,300m/4,264ft)
Day 02 :Kathmandu to Khudi, (800m/2,624ft), 7-8 hours
Day 03 :Khudi to Sirung, (2200m/7216 ft), 6 – 7 hours
Day 04 :Sirung to Jagat, (1,300m/4265ft), 6 – 7 hours
Day 05 :Jagat to Dharapani, (1,960m/6,430ft), 7-8 hours.
Day 06 :Dharapani to Chame, (2,710m/8,891ft), 5 – 6 hours
Day 07 :Chame to Pisang, (3,300m/10824ft), 5 – 6 hours.
Day 08 :Pisang to Manang, (3,519m/11,545ft), 6 – 7 hours.
Day 09 :Acclimatization day in Manang, (3,519m/11,545ft)
Day 10 :Manang to Yak Kharka, (4,110m/13,484ft), 3 – 4 hours.
Day 11 :Yak Kharka to ThorongPhedi, (4,600m/15,092ft), 3 – 4 hours.
Day 12 :ThorongPhedi to Muktinath, (3,800m/12,467ft), 7 – 8 hours
Day 13 :Muktinath to Marpha, (2,670m/8,760ft), 4 – 5 hours.
Day 14 :Marpha to Kalopani, (2,530 m/8,300 ft), 5 – 6 hours.
Day 15 :Kalopani to Tatopani, (1,200m/3,937ft), 6 – 7 hours.
Day 16 :Tatopani to Ghorepani, (2,850m/9,350ft), 7 – 8 hours.
Day 17 :Ghorepani to Poon Hill to Tadapani, (2,700m/8,860ft), 6 – 7 hours.
Day 18 :Tadapani to Pokhara, (827m/2,789ft), 5 – 6 hours.
Day 19 :Drive from Pokhara to Kathmandu, (1,400m/4,600ft), 5-6 hours.
Day 20 :Farewell/Final departure.
3.Langtang Valley Trek.
Langtang Valley Trek is a short delightful and ideal journey in the Langtang region. It is famous for providing exceptionally beautiful vistas of the mountains, native hidden culture, and Langtang Himalayas ranges. The Langtang Trekking Trail is an extremely beautiful and fascinating destination in Nepal. Which is not far from the capital city of Kathmandu. Most of the way goes off the beaten trail in the Langtang Valley Trek. This Trek would provide you the perfect opportunity to create an unforgettable experience on the Himalayas trip.
Langtang Valley Trek offers a majestic view of mountains with panoramic landscapes. It is the top 3 most visited trekking destinations in Nepal alongside Everest Base Camp Trek and Annapurna Base Camp Trek.
Basically, this trek is exciting with picturesque views of the beautiful village that lies within the Langtang National Park. Langtang is the best vacation spot for regular and novice trekkers, and I am sure it will be your unforgettable lifetime experience.
Trip Highlights:
Kyanjin Gompa (3870m)
Langtang National Park (Buffer Zone)
Magnificent Panorama Scenarios
A Engrossing Tamang culture and Festival. Buddhist beliefs, and typical villages lifestyle, dominated by the Tamang Culture.
Sacred Gosainkunda Lakes (4,380 Metres)
magnificent highlands Himalayan views, and snow-covered miracle peaks, such as Yala peak, Langtang Ri, Langtang Lirung, and Motomori peak.
Langtang national park, passing through grasslands, tropical rainforests, alpine meadows, and moorlands along the way. You will reach snow and ice along the way
Outline Itinenary
Day 01 :Arrival at Kathmandu.
Day 02 :Drive Kathmandu to Shyabru bensi.
Day 03 :Trek to Lama Hotel.
Day 04 :Trek to Langatang village.
Day 05 :Trek to Kyangjin Gompa.
Day 06 :Rest or Side Trip to Kyanjing Ri.
Day 07 :Trek to Lama Hotel.
Day 08 :Trek to Syabru Village.
Day 09 :Syabru Village to Chandanbari.
Day 10 :Chandanbari to Lauribina
Day 11 :Lauribina to Gosaikunda.
Day 12 :Gosaikund to Chandanbari.
Day 13 :Chandanbari to Dhunche.
Day 14 :Dhunche to Kathmandu.
Day 15 :Final Departure.
4.Ghandruk Trek.
Ghandruk trek offers a more leisurely hike as compared to other trekking regions. As for the Ghandruk Trek route, it is the perfect altitude for old as well as young trekkers, as it ascends gradually through rocky farmlands and dense subtropical forests. The Ghandruk Trek offers excellent acclimatization and a diverse range of landscapes during the trek.
The main attraction of this trek is the bustling heritage village of Ghandruk, with its a relatively prosperous Gurung population. Staying in Ghandruk is a wonderful experience, as the village has a friendly vibe to it and offers amazing views of Himalayan giants Annapurna, Hiunchuli and Machapuchare (Fishtail).
Trip Highlights:
Phedi trail takes you through dense rhododendron forests, paddy fields and up steep stone-slab steps through picturesque villages of the lower Annapurna region, while snowy mountains are towering over you.
The trail ascends through forests of rhododendron, magnolia, oak, sandalwood, and pine until you reach the village called Dhampus.
Modi Khola river., Landruk, another ethnic village
Best views of Annapurna South and Fishtail Mountain.
Combine with homestay.
privately run museum.
village inhabited by the Gurung community with own culture.
The walk provides you the breathtaking views of Annapurna South, Gangapurna, Annapurna III, Machhapuchre and Hiunchuli.
Outline Itenary:
| | |
| --- | --- |
| Day 1 | Welcome to Kathmandu! |
| Day 2 | Explore Kathmandu |
| Day 3 | Fly from Kathmandu to Pokhara, Trek to Pothana (1,860 m / 6,102 feet) |
| Day 4 | Trek from Pothana to Ghandruk (1,940 m / 6,365 feet) |
| Day 5 | Trek from Ghandruk to Nayapul, Fly from Pokhara to Kathmandu |
| Day 6 | Depart Kathmandu |
5.Kanchanjunga Circuit Trek:
Kanchenjunga Base Camp Trek is one of the great Himalayan trails, which covers the eastern part of Nepal. The term "Kanchenjunga" stands for crystal clear in Nepali. Kanchenjunga (8586m) is the third highest mountain in the world and is also popularly known as the "Five Treasures of the Great Snow" i.e. Gold, Silver, Precious Stones, Grain, and Holy Scriptures. The famous Kanchenjunga is situated in North-East Nepal and is bordered by Sikkim, India. Since the mountain partly lies in Nepal and partly in India, the view of Kanchenjunga can be seen from India, Bhutan, and Tibet.
the Kanchenjunga trek is now considered amongst the premier routes for those seeking a rarely traveled and highly challenging adventure through one of the last unspoiled wilderness regions of Nepal. , the trek climbs through the scenic and cultivated foothills into the great mountain stronghold of peaks such as Rathong, Kumbhakarna, Jannu, and of course Kanchenjunga, offering some of the Himalaya's most awe-inspiring and majestic scenery en route to South Base Camp (5143m).
The Kanchenjunga trek is a journey for the trekker with a sense of adventure, a desire to explore trails less traveled, and the determination and conditioning to tackle the challenges of a physically demanding route through one of Nepal's most remote regions
Trip Highlights:
The trekking route to Kanchenjunga Base Camp passes through the Arun valley which is considered the most beautiful regions for trekking in Nepal.
Kanchenjunga Conservation area which covers an area of 2035 square kilometers. The area is home to many flora and fauna as well as various wildlife including Himalayan black bear, musk deer, snow leopard, red panda, wild boar and many others
. The route to basecamp offers variations in landscapes from alpine grasslands to sub-tropical forests, low river valley, glacial moraine, and rocky scree slopes
, trekkers get to relish the stunning panoramic view of the massive mountain peaks such as Lhotse (8516m), Everest (8848m), Kanchenjunga (8586m), Makalu (8481m), and many others
The Kanchenjunga region is inhabited by a mixed community of Sherpa, Rai, Limbu, and Gurung, which provides an opportunity for trekkers to understand their culture and lifestyle.
This circular trek takes you up through lush valleys full of seasonal flowers that receive the heaviest monsoon rains throughout the Himalayan range, north into spectacular high alpine landscapes full of woodlands and mountain streams
Outline Itinenary
Day 01 :Arrival in Kathmandu.
Day 02 :Trekking preparation day.
Day 03 :Fly to Bhadrapur- Drive to Ilam
Day 04 :Drive to Taplejung ( 5-6 hour drive)
Day 05 :Trek to Mitlung ( 5 hour)
Day 06 :Trek to Chirwa (1190m) 6 hour
Day 07 :Trek to Sakathum (1640m) 5 Hour
Day 08 :Trek to Amjilassa (2490m) 6 hour
Day 09 :Trek to Gyabla (2730m) 6 hour
Day 10 :Trek to Gyabla (2730m) 6 hour
Day 11 :Rest day or acclimatization at Ghunsa
Day 12 :Trek to Khambachen (4150m) 5 hour
Day 13 :Trek to Lhonak (4790m) 3 hour
Day 14 :Trek to Lhonak (4790m) 3 hour
Day 15 :Exploration day around Northern Base Camp Kanchenjunga Glacier
Day 16 :Trek back to Khambachen (4150m) 6 hour
Day 17 :Trek back to Gunsa (3410m) 6 hour
Day 18 :Trek to Selele Kharka ( 4200m) 5 hour
Day 19 :Trek over Selele Pass – trek down to Tseram (3900m) 5 hour
Day 20 :Trek to Ramche (4620m)
Day 21 :Explore around Southern Base Camp and Yalung Glacier and return to Ramche
Day 22 :Trek back to Torntan (2990m) 6 hour
Day 23 :Trek to Yamphudin (1690m) 6 hour
Day 24 :Trek back to Kheswa (2125m) 6 Hour
Day 25 :Trek Back to Taplejung (1840m)
Day 26 :Drive to Bhadrapur ( 8-9 hour)
Day 27 :fly to Kathmandu.
Day 28 :Final Departure
6. Rara Lake Trek:
Rara Lake Trekking is hands down one of the most beautiful treks that take you to Rara Lake in Nepal. It is one of the largest lakes in Nepal. Every year, thousands of visitors visit the lake from all over the world. Rara Lake lies at an elevation of 2,990 meters with an area of 10.8 km square. It is beautifully surrounded by green hills and Rara National Park, makes it a good trekking destination. Also, the view of snow clad Himalayan peaks enhances the beauty of Rara Lake. This mesmerizing trek to Rara Lake is located in the remote northwest part of Nepal. The trek starts from a pulsating capital city and takes you to the remote area of Jumla. Surprisingly, Rara Lake is one of the bluest water in the world yet the lake shows three different colors in a day and the background of the lake also keeps changing. Rara Lake Trekking route is less crowded and very much off beaten trail. So, it is a great option for those who are seeking isolation and communion with nature. Throughout the trekking journey, you'll experience the very different and unique cultures and panorama which are different from rest of Nepal. ara Lake undoubtedly is one of world's most picturesque and serene lake. This biggest and deepest fresh water lake of the Himalayans is a major attraction of the Rara National Park. Rara Lake Trekking is an incredible and heavenly trekking route in all of the Himalayans, lying northwest of Kathmandu in the secluded region of the country, Karnali region.
Trip Highlights:
• Cultural tour of Kathmandu Valley
• Enjoy a super scenic flight from Kathmandu to Nepalgunj and vice-versa
• Explore the natural beauty and tranquility of Rara Lake
• Visit Sinja valley, an important old historical place of Nepal
• Explore the rich bio-diversity of Rara National Park
• Enjoy the beautiful landscape and view of distant peaks of Dolpo and API Shripal
• Walk through beautiful pine, birch, and rhododendron forests
• Experience authentic culture and lifestyle of Jumla district
This stunning lake in the high altitude is surrounded by forests of pine, alpine meadows, juniper and spruce
These forests are also home of more than 200 species of colorful birds and butterflies.
Outline Itinenary
Day 01 :Arrival at Tribhuban International Airport (T.I.A) and get by our private vehicle and than transfer to the inn
Day 02 :Full day (6 hrs) guided touring in Pashupatinath, Boudhanath and Patan Durbar Square. Medium-term in Hotel. (B)
Day 03 : Fly from Kathmandu to Nepalgunj and check in Hotel (B)
Day 04 :Fly Nepalgunj to Jumla (2370m/7773ft) and initiate trek to Uthugaon (2530m/8298ft), 4-5 hrs walk (B, L, D)
Day 05 :Trek to Danphe Lagna (3500m/11480ft), 4-5 hrs walk (B, L, D)
Day 06 :Trek Lagna to Chautha (2770m/9085ft), 5-6 hrs walk (B, L, D)
Day 07 :Trek to Dhotu (2380m/7806ft), 5-6 hrs walk (B, L, D)
Day 08 :Trek to Rara Lake (2980m/9774ft), 4-5 hrs walk (B, L, D)
Day 09 : Acclimatization day in Rara Lake (B, L, D)
Day 10 : Trek to Gorusingha (3190m/10463ft), 5-6 hrs walk (B, L, D)
Day 11 :Trek to Sinja (2440m/8003ft), 5-6 hrs walk (B, L, D)
Day 12 : Trek to Jaljala Chaur (3270m/10725ft), 6-7 hrs walk (B, L, D)
Day 13 :Trek to Jumla (2370m/7773ft), 5-6 hrs walk (B, L, D)
Day 14 : Fly to Kathmandu through Nepaljung (B)
Day 15 :Free day in Kathmandu for shopping (B) .
Day 16 :Final Departure.
7. Manaslu Circuit Trek:
The Manaslu circuit trek is one of the best treks in Nepal. It takes you around the Manaslu Conservation Area and leads to a breathtaking view of the eighth highest mountain in the world.
Flanked by the Annapurna's to the West and Ganesh Himal to the East it is one of the most graceful of the 8000-meter giantsThe Manaslu Circuit Trek Package is a pretty unique trekking trip compared to other popular travel packages to Everest and the Annapurna region in Nepal. This route is full of beaten tracks and provides a pure village hiking experience. If you are seeking the best experience of venturing into the wild and remote areas, coupled with episodes of romanticism and genuine knowledge, a completely different world beyond the existing one, then this Manaslu Circuit Trek Package is just for you.
The entire trail lies in the preservation area of the Manaslu region, which has so far kept the wildlife and vegetation in their natural state. You will observe the natural beauty unaltered or very little influenced by modern touches. The local tribes have learned to co-exist with high respect and regard for nature and its components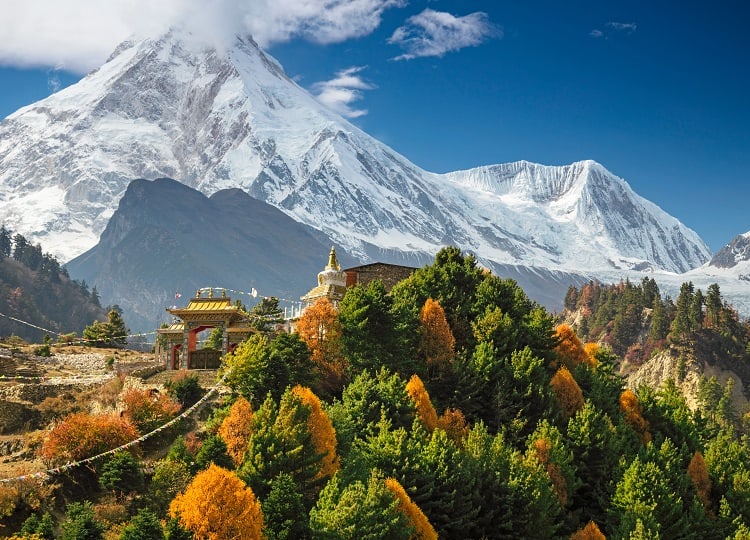 Trip Highlights:
A LIVELY JOURNEY TO SOME REMOTE AND UNTOUCHED SECTIONS OF THE NEPALESE HIMALAYAS.
EXPLORE THE HIMALAYAS WITH THE MANASLU CIRCUIT TREK PACKAGE AND INTERACT WITH HIMALAYAN PEOPLE TO GET SOME INSIGHTS INTO HIMALAYAN CULTURE AND LIFESTYLE.
PICTURESQUE LANDSCAPES, WATERFALLS, RIVERS, FORESTS, AND ALPINE PASTURES END ETHNIC SETTLEMENTS.
THE VIBRANT ECOSYSTEM OF THE MANASLU CONSERVATION AREA
Jaw dropping natural beauty of the forests, rivers, and flora in the Manaslu region
Friendly people, rich culture of the region which includes both Nepalese & Tibetan ethnic groups
Larky La Pass (5167 meters), the highest point on the trek
Stunning view of some of the highest peaks in the world- Manaslu, Himlung, Annapurna II
Outline Itinenary
Day 01 :Landing in Kathmandu 1350m/4428ft.
Day 02 :By Local transport Kathmandu/Arughat 600m-7hrs drive.
Day 03 :Trek to Machhi Khola (1,000 m/3,280 Ft and 5-6hrs )
Day 04 :Trek to Jagat (1,410 m/34169 Ft and 5-6hrs.)
Day 05 :Trek to Deng (2120m/5660ft and 6hrs.)
Day 06 :Trek to Namrung(2660m/86,33 ft and 5hrs.)
Day 07 :Trek to Samagaun (3530m/1670ft and 6hrs.)
Day 08 :Aclimatization and rest day
Day 09 :Trek to Samdo (3,740 m/12,270 Ft &4hrs trek)
Day 10 :Trek to Dharmsala (4,480 m/14,698 Ft &4-5hrs.)
Day 11 :Trek Over Larkya La Pass (5,170 m) at that point drops to Bhimthang (3,890m/12,762ft and 8hrs)
Day 12 :Trek to Dharapani (1920 m and 5/6hrs.
Day 13 :Drive to Beshisahar 3hrs.
Day 14 :Drive to Kathmandu 7hrs by local transport.
Day 15 :Final Departure
8.Upper Mustang Trek:
The Upper Mustang Trek is the perfect combination of culture and trekking as it is intended. Far away from the more inhabited world and in the middle of the wilderness. Let the Himalaya embrace you and immerse yourself in the mysticism of the Mustang. The spectacularly tanned red cliffs and the endless variety of grey rolling hills of the Mustang will be engraved in your memory long after your return home. Add to that your experiences in the incredible towns of the Kingdom and the friendliness of the people of the Mustang. Trekking in the Upper Mustang is a special privilege. Here you will mee the lifestyles of true mountain people, who, for lots of years, had very little contact with the rest of Nepal and managed to retain their wealthy cultural heritage. . Due to its inaccessibility, Mustang has long been protected from mass tourism and is now known as the last bastion of traditional Tibetan culture.
Trip Highlights:
the old and antiquated Trans Himalayan Caravan Route to Tibet with overnights around fascinating villages and towns of Jomsom-Kagbeni-Chele-Ghami-Tsarang
the restricted walled city/town in Lo-Manthang
short beautiful trip to Jomsom with appealing perspectives on Dhaulagiri-Annapurna to Manaslu range of mountains
Around Lo-Manthang and Upper Mustang visiting great and medieval period villages and monasteries including the royal residence of Mustang
a rock and a dry place nation offers huge view of mountains, astounding scenes with tremendous culture holding its past greatness right up 'til today untouch by modernization.
Old and crustae tea shops all in stone bead trails.
Mustang apples wildly and richly grown in these scarce lands.
Outline Itinenary
Day 01 :Arrival in Kathmandu.
Day 02 :In Kathmandu Prepare All Permit.
Day 03 :Drive to Pokhara 860m (220 k.m) – 06 hrs.
Day 04 :Morning Flight to Jomsom 2,700 and trek to Kagbeni – 04 hrs.
Day 05 :Trek to Chele 3,050m – 06 hrs.
Day 06 :Trek to Geling 3,540 m – 05 hrs.
Day 07 :Trek to Tsarang (Charang) 3,560 m – 06 hrs.
Day 08 :Trek to Lo-Manthang 3,700 m – 04 hrs.
Day 09 :In Lo-Manthang for acclimatization and local climb.
Day 10 :Trek to Dhakmar 3,810 m – 06 hrs.
Day 11 :Trek to Ghiling 3,806 m – 06 hrs.
Day 12 :Trek to Tsusang 2,980 m – 06 hrs.
Day 13 :Trek to Kagbeni 2,830 m – 05 hrs.
Day 14 :Trek to Jomsom 2,715 m – 04 hrs.
Day 15 :From Jomsom morning fly to Pokhara.
Day 16 :Drive/Fly back to Kathmandu.
9. Makalu Trek:
The spectacular trek to Makalu Base Camp has long been one of Nepal's best kept trekking secrets. Closed to the outside world until the 1950s, when Eric Shipton first trekked into the region, it has remained relatively inaccessible and little-known except to a handful of keen trekkers; camping en route. We are delighted to now be able to offer the trail to the foot of the world's fifth highest peak as a tea house trek, and although accommodation is simpler than in more established trekking areas, the tea houses offer a welcome place to stay along the way of scenic rewards as you climb from 700m to over 5,000m.
The trekking is challenging but immensely rewarding. On a single day alone you cross four high passes, including the Shipton La (Eric Shipton's original expedition route) three of which are over 4,000m – a truly stunning day's trekking. And, if you do this trek in the spring when there may be lingering snow, crossing the passes is even more exciting. The final approach to Base Camp is undoubtedly one of the best and most scenically spectacular walk-ins anywhere in the world and, when you finally reach Base Camp, Mount Makalu utterly dominates with its majestic, monumental presence. It makes you realise how daunting it would be to climb this 8,416m beast.
Trip Highlights:
Complete the spectacular trek to Makalu Base Camp where few others have ventured
Cross the Shipton La pass, and three other high passes, on a single day of sublime trekking
Enjoy a full day of exploration at Makalu Base Camp
Encounter varied scenery in different temperate zones as you progress from 700m to over 5,000m
Stay in tea houses on trek to experience remote village life and contribute directly to the local economy.
The trail to the foot of the world's fifth highest peak, takes you through the pristine wilderness of Makalu Barun National Park
you can enjoy an epic panorama of some of the Himalaya's highest peaks including Everest, 8,848m, Lhotse, 8,516m, Chamlang, 7,319m, and Baruntse, 7,129m.
Outline Itinenary
Day 01 :Arrival in Kathmandu
Day 02 :Fly from Kathmandu to Tumlingtar (510m.) -45 minutes
Day 03 :Trek from Maney Bhanjyang to Chilchile (1830m)-5 hours
Day 04 :Trek from Chilchile to Num (1500 m.) -5 hours
Day 05 :Trek from Num to Seduwa (1510m.) -5hours.
Day 06 :Trek from Seduwa to Tashigaon (2070 m.) -4hours.
Day 07 :Trek from Tashigaon to Khongma la (3560m.) -6 hours.
Day 08 :Trek from Khongma la to Mumbuk (3550m.) -7 hours
Day 09 :Trek from Mumbuk to Yangle Kharka (3600m.) -5hours.
Day 10 :Trek from Yangle Kharka to Yak Kharka (4810m.) -6 hours
Day 11 :Trek from Yak Kharka to Makalu Base Camp (4812m.) -4 hours.
Day 12 :A day for rest at Makalu Base Camp. You will appreciate the entire day in the base camp.
Day 13 :Trek from Makalu Base Camp to Yangle Kharka (3600 m). -5 hours.
Day 14 :Trek from Yangle Kharka to Dobato -5 hours
Day 15 :Trek from Dobato to Tashigaon (2070m.) -6 hours.
Day 16 :Trek from Tashigaon to Num (1490m.) -5 hours.
Day 17 :Trek from Num to Maney Bhanjyang (1158m.) -5 hours.
Day 18 :Trek from Maney Bhanjyang to Tumlingtar-5 and half hrs
Day 19 :Fly out from Tumlingtar to Kathmandu
Day 20 :Final Departure
10. Mardi Himal Trek:
Mardi Himal is a challenging and beautiful trek in the Annapurna region that offers breathtaking views of the Himalayan mountain range. It's a lesser-known route compared to the famous Everest Base Camp trek or Annapurna Circuit trek.
The trail is well marked with white & blue strips most of the time it's the only route, at the splits, there are signs pointing in the directions. Finding accommodation is easy you just arrive at a guest house and ask if they have a room. Though for inexperienced hikers this trek might be quite challenging; high altitude, unpredictable weather, steep ascends and descendsUnlike some other routes in the Annapurna conservation area, Mardi Himal doesn't go through local villages all stops on the route from Landruk to Base Camp are set only for the season and exclusively for trekkers, nobody lives there permanently.
Trip Highlights:
offering an astounding view of Dhaulagiri, Machhapuchhre ( Fishtail), Manaslu and Annapurna
an adventure passes going through the amazing spots like Koker 2550m, Lo Camp 3050m and High camp 3900m with Rhododendron woodland.
awesome views, lavish grasses, amazing view and emotional scene with wide range of snowy-capped on the high area.
trek explore the Village of Dhampus, Deurali, and some other small villages en route with a wonderful mountain views
Outline Itinenary
Day 01 :Arrival in Kathmandu, (1,350m/4,264ft)
Day 02 :Drive to Pokhara (1400m) around 7 hours, Overnight at Hotel.
Day 03 :Drive to Phedi and trek to Deurali (2190m/6,722ft): 40 minutes drive, around 5 hours walk, Overnight at Lodge
Day 04 :Trek to forest camp (2,515m/8060ft): around 6-7 hours walk,
Day 05 :Trek to Lo-Camp (3035meter). around 5/6 hours walk
Day 06 :Trek to high camp (3538m/11,325ft): around 3/4 hours walk,
Day 07 :Climb to viewpoint (4255m/13590ft), return back to high camp: around 2/3 hrs walk.
Day 08 :Trek to Sidhing Village (1710m/5445ft): around 6/7 hours walk.
Day 09 :Trek to Lumre and drive to Pokhara, 3 hrs walk and 2 hrs drive by taxi.
Day 10 :Drive back to Kathmandu.
Day 11 :Final Departure
11. Jomsom muktinath trek
The Jomsom to Muktinath trek in the Mustang region of Nepal offers an incredible insight into this ancient and spiritual landscape. Jomsom has been a trekking destination in Nepal for many decades, and provides a nice jumping off point for exploring the lower Mustang region and the pilgrimage site at Muktinath.
While technically a section of the Annapurna Circuit trek, this option provides a shorter taste of what the region has to offer. After cutting my trekking in the lower Annapurna region short due to bad weather, I decided to head up to Jomsom to continue my walking.
The dry, desert-like landscape of the Tibetan plateau offered a completely different experience to the more fertile hills closer to Pokhara and you also get a nice close up view of Mount Dhaulagiri and Nilgiri, plus other Himalayan peaks.
While you'll obviously be able to marvel at some of the Himalayan peaks in this region, this trek is also very much a rich cultural experience. Being able to visit the important pilgrimage sites at Kagbeni and Muktinath and staying in ancient villages of the Mustang region is extremely interesting and beautiful.
Jomsom Muktinath Trek has been one of the most sought after trekking in the Annapurna region from the beginning. This trek offers some striking views of the incredible mountain vistas, unique temples, and age old monasteries along the windy valley of Kaligandaki River. The trek to Jomsom Muktinath commences from the Tatopani – natural hot spring pool.
The temple and religious shrines in Jomsom and Muktinath are the most noteworthy pilgrimage sites for Hindus and Buddhists in the region.
Trip Highlights:
Located in the Annapurna region at Mustang districts, north of Pokhara.
This trip is famous for the Muktinath temple situated at 3,800m.
Offers you magnificent sunrises and sunsets above breathtaking views of the entire Annapurna range.
Walkthrough the Kali Gandaki Holy River has cut the world's deepest gorge at Dana (1450m).
Hindu and Buddhist pilgrim's site in Muktinath sacred 108 water spouts to wash out their karma. bad
Saligram (fossils) can be found on the riverbank of Kaligandaki, incarnations of the God Vishnu.
Jwala Mai Temple with an eternal flame fed by natural underground called Real goddess.
Outline Itinenary
Day 01 :Landing in Kathmandu 1350m/4428ft.
Day 02 :Kathmandu – Pokhara 850m/2788ft-7hrs drive
Day 03 :Pokhara – Tikhedunga 1210m/3800ft-4hrs Trek.
Day 04 :Tikhedunga to Gorepani 2850m/9348ft-6hrs Trek.
Day 05 :Gorepani to Tatopani (1200m/3940ft 4/5 hrs, early morning climb to Poon Hill (3,210 m/10,525 ft) ¾ hr
Day 06 :Tatopani to Ghasa (1,190 m/3,900 ft) – 5 hrs trek.
Day 07 :Ghasa to Tukche(2,510 m/8,550 ft) – 5hrs trek
Day 08 :Tukche to Kagbeni (2,900 m/9,500 ft) – 5 hrs trek
Day 09 :Kagbeni to Muktinath (3,855 m/12,635ft) 3 hrs trek.
Day 10 :Muktinath to Jomsom (2,720 m/8,915 ft) 5hrs trek.
Day 11 :Early morning fly to Pokhara (820 m.)
Day 12 :Pokhara – Kathmandu 7hrs by drive or 30minute flight.
Day 13 :Departure/Farewell
12. Chisapani Nagarkot Trek:
This is a short and sweet trip of 3 days tea house trek around Kathmandu and can be extended to Dhulikhel and Namo Buddha for another 1-2 days. This tour plan is designed for the short time travelers in Nepal who would like to experience the  taste of Nepal. Chisapani Nagarkot Trek starts from Sundarijal after driving 45 minutes from Kathmandu. In the beginning the trail pierces Shivapuri National Park passing through a big watershed that provides 40 percent drinking to Kathmandu Valley. Chisapani Nagarkot Trek offers beautiful nature and village walk experience, natural environment, stunning Himalaya panorama of Manaslu, Ganesh Himal, Langtang Himal, Gaurishankar Himal and even we can spot Mount Everest in far distance. 
Your first destination is Chisapani after walking about 4-5 hours to Sundarijal. The weather in Chisapani is always cold as its name is Chisapani, meaning "cold water" in Nepali where you will enjoy the real boon of nature being away from the noise of Kathmandu feeling better to be away from crowded busy city life and your interaction with the local people will add another experience. Walking through jungle and hearing bird chirpings to Lapsi Phedi from Chisapani is pleasurable excursion. Nagarkot with the height of 2195 meter from sea level is on the edge of the valley and offers superb views of the mountains as well as Kathmandu valley. Along with this you visit the temple at Changunarayan, one of the oldest Hindu temples in Nepal which offers you to have a peek observation of the religious practice of Nepali people. And your sightseeing tour in medieval ancient town Bhaktapur can be beautiful lifetime experience for sure.
Trip Highlights:
Great for those with less time or who want a weekend get-away
Hike through forests
Visit the hill station of Nagarkot
Stunning sunrise view of 8 out of 13 of the Himalaya ranges from your breakfast table
Visit the temple of Changu Narayan
Outline Itinenary
Day 01 :Arrival In Kathmandu
Day 02 :Sundarijal to Chisapani, after one hour drive from Kathmandu
Day 03 :Trek to Nagarkot
Day 04 :Trek to Dhulikhel
Day 05 :Drive back to kathmandu
Day 06 :Departure to your respective port
What level of trekking difficulty are you seeking?
Symptoms of AMS start to show within a few hours after arrival at high altitude and include nausea, shortness of breath, headache and inability to exercise

The higher the altitude, the more severe your symptoms can be. There is a number of scoring systems for determining altitude sickness. Guides are trained in these systems and are experienced in immediate treatment. Although many people will experience some symptoms of altitude sickness, it doesn't have to escalate. When aware of the symptoms, you can do a lot to make sure you stay healthy at high altitude.
In fact, it doesn't matter where you are going, your equipment is key In every case, the right equipment can make the difference between you having a good time and ending up miserable. You have booked your tickets, your guide in Nepal is waiting and now you rock up with a too-heavy backpack, a jacket which is not thick enough and shoes that are very likely going to give you blisters.
Trekking worsens with broad day complete direct sun glaze so you might see around busty.As nights are cold and clumsy too deepening our nerves we are sometimes red hoaxed. All aloof these signs of difficulties which can be prevented and protected you are in preservence.
Perhaps with these occurences there are limits of range of treks available in Nepal.You would come to discover many such routes descend and ascends, trails remote sluggerish and other difficulties we would know.
How many days do you have available for trekking in Nepal?
Your choice of typical hikes and treks are all measures of our tour accomplishments. From the start of trip to all levels of journey we are bound to part of varnish to nature and our day/night activities.
Your plan of trip varies from 6 days short treks and medium allocated 10-12 days hills endeavor. The facts of genuine holidays treks are more in these context. The thrill covet with your long range treks which are relentless admiral long peaks are the designated arrivals high in nature and to greatness of our journey. These far trek sites and restricted zones will wary 20-30 days. We all need for distinct chances to overcome our journey of wonder in our world.
In conclusion, In Your active venture dream your are planning a journey within these marvel of days and nights. So that what you seek for in your trek manners we are all here to shape the service.
Are you a budget traveler or is price less relevant for you?
Nepal is peace loving country and the we are proud to live in our place amid all graceful perspectives of our national integrity and most to the gratitude of our experience.
The treks available in the cologne of the peaks ,rivers falls and forest and trails are superb.The treks are compassionate advent we would accomplish.
The cost of travel is more or less the price of self acquittance and terms of most advanced travelers chores od . the cost of trek normally is diversified in all areas of our trek guidance. Its low costly and affordable for national tourist. Well its more costlier of international travelers and depends on the time and journey of the trek. You could be fascinated with the trims of distance trekking with the cost of trek relinquish. Our sites serves the total price catalog for intending travelers.
During which season(s) are you trekking in Nepal? (some treks are not recommended during the monsoon and winter season)
The Annapurna Region, along with the rest of Nepal has 4 distinct seasons. Spring, Summer, Autumn, and Winter. The months from March to May and from October or November are the most popular for trekking at the Annapurna Massif. Along with Annapurna EBC is also unachievable during the wet and snowy seasonal changes. In most treks we are nurtured with the lively and pleasant people in short treks there's a serenity to human and nature lingerie.All remote treks are evacuated and scare in the dwindle of human presence. We are incapable for long journey in severe altitude land mounts. Due to these fringe of nature and remoteness we could pass by our trek destinations in mainly 2 seasons of the year.
Therein after we have the length of seasons vibrance and the beauty of light and air mork.
Autumn (March to May)
Spring is the perfect season for Trekking. It is your best chance to see rhododendron in full bloom and to spot the most beautiful birds. You can expect it to be quite busy on the trials. During this time the weather will be pleasant and you'll get splendid views of the Himalayas reflecting in the lake


Summer (June to August)
When talking trekking in Nepal, not many people would advise you to go trekking in summer, which is the time of monsoon. However, as the Annapurna Circuit finds itself in a rain shadow, it is perfectly suited for trekking during the wet season.
Spring (August to November)
Its best time for river to push its flow down long streams and dense forest ways such gorges reach the sides of stony wots and we could see birds and sunshine corners the dusk. Its better timing for quite expedition.
Are you alone, or with someone? Some treks in Nepal have Restricted Permits and hence requires a minimum of two people, and the company of a Nepali guide or porter.
For the Annapurna Region Trek you need two kinds of permits. All permits are arranged by your trekking provider.

ACAP (Annapurna Conservation Area Permit):
As you will be entering the Annapurna Conservation Area, you will need a permit which costs USD 20 per person for a single entry into the area but is valid for as long as the trek takes. This permit is also required for the Annapurna Circuit and the ABC trek.
RAP (Restricted Area Permit) There is no restriction on the length of time a person can stay in the ACAP area. In addition, if someone isgoing into Upper Mustang(from Kagbeni onwards) they require a RAP (Restricted Area Permit).

This costs USD 500 per person for 10 days. If longer is required, an additional USD 50 per day is charged. There is no TIMS (Trekkers Information Management System card) required for the Upper Mustang Trek as the Restricted Area Permit(RAP) is sufficient as it provides details of the trekker and his/her destination in case of an emergency or problem.


You need to have trekking permits to go on Everest Base Camp Trek. An entry permit for Sagarmatha National Park and the Khumbu region is needed for EBC Trek. An additional entrance permit of the Gaurishankar Conservation Area and a standard trek from Lukla is also needed.
Sagarmatha National Park Entry Permit costs NRP 3,000 per person for foreigners and citizens of SAARC nations cost NRP 1,500 per person. Nepalese are charged NRP 100 per person. Khumbu Rural Municipality Entrance Permit costs NRP 2,000 per trekker. It is the same for every trekker regardless of their nationality. You need to pay NRP 2,000 to obtain the Gaurishankar Conservation Area permit. You'll also need to pay for TIMS.
The Cost for the Manaslu RAP differs in different travel seasons. Till November from September for three months, your cost is USD 100 for the first week. Extra days then will cost you USD 15 per day. Similarly, for the other months i.e., December to August, the cost is USD 75 for the first week and USD 10 per day for the additional period.
This applies for other RAP regions.
The restricted area permit cost for the Langtang Gosainkunda region is USD 20 per person per week.
You may not need additional permit for homestay areas and other areas such as guesthouse treks.
For proper accommodation and if you travel single or couple you have to pay for these permits. For this cash is appropriate and need to be paid in the journey. Permit fees are quoted in US dollars but payable in Nepali Rupees.
Trekking in Nepal: A Complete Guide
Trekking in Nepal-A Complete Travel Guide is one of the most exciting adventure outdoor experiences. It features eight of the world's 14 8,000 peaks. Nepal has six distinct and unique plant zones ranging from tropical to alpine. With the lowest point being Kechana Kawal at 58 m and the highest point being Mount Everest at 8848.86 m, Nepal offers a wide range of trekking opportunities.
Likewise, a unique blend of Hinduism and Buddhism makes Nepal a great religious and spiritual experience. Nepal celebrates unique festivals such as the Tiji festival in the Upper Mustang and the Mani Rimdu festival in the Everest region.
Additionally, Nepal is very rich in species, with some occurring only in Nepal. These include 284 flowering plants and 160 animal species. Nepal is a bird lover's paradise and a paradise for large mammals. Nepal is the only country where the tiger population has doubled.
If you want to experience Nepal, you need to plan your travel strategically. So the only question you need to ask yourself when you decide to visit Nepal is what kind of trekking do you want?
There are mostly comprehensive description on what to expect in these trekking experience.
You would sure to aquire the personal experience within Nepal by coming to Trek areas and completing your journey.
In Nepal Treks are categorized regional which holds for peak regions trekking which have been further distinguished as:
Everest Region
Annapurna Region
Manaslu Region
Langtang Region
And there are another trekking plan
Off Beaten Treks that is:
Upper Mustang Trek
Nar-Phu Valley Trek
Solo Trekking
Trekking solo is an entirely different experience. You learn more about yourself and remember better the trails you have traveled. From permits to logistics, you are on your own.
It's relatively easy to trek past well-maintained trails, like Annapurna Base Camp and Everest Base Camp trekking trails.
However, not all hiking trails are well-marked, and many risks are associated with high-altitude hiking.
From altitude sickness to accidental injuries, hiking at high altitudes can make planning difficult.
If you walk off the beaten path or hike at unconventional times, you are hiking the trail alone, which can be scary. Even solo trekking will miss our precious companionship.
Guided Trekking
Guided trekking has many benefits. First, you don't have to worry about booking a room or finding the best restaurants.
All permits will be applied, and all necessary paperwork will be completed. This is perfect if you are traveling in Nepal for a brief period.
Guided treks also allow you to get in touch with the locals as your guide overcomes the language barrier.
Likewise, the local knowledge you get from guided trek is immeasurable, as the guide is knowledgeable about the culture and region.
Guided trekking is, therefore, a hassle-free trekking experience. Guided trekking is more comfortable and convenient, especially if you are going to a foreign country for the first time.
Guides and Porters
Guides and porters are essential to making hiking easy and fun. The team leader has a wealth of knowledge about animal migration, local languages, weather systems, and more.
So, you can return from your trip with much knowledge without the stress of traveling to a foreign land with a good guide.
Porters carry loads even in the challenging terrain of Nepal. Also, some treks in Nepal are pretty long and can sometimes take a month.
Having people who speak your language is very comfortable and makes the trip more enjoyable.
Transportation
Nepal currently has two international airports. One lands in the historic city of Kathmandu and the other in the birthplace of Gautama, the founder of Buddhism.
Both locations serve as bases for sightseeing and travel planning. However, Kathmandu may be a better option if you need last-minute hiking arrangements.
Within Kathmandu, you have a choice of local buses or taxis. Avid trekkers mostly head to Pokhara and can be reached by private vehicle, local bus, or plane.
However, private jeep or domestic flights must be used for trips outside of these urban areas. All major cities are connected by air. A flight costs more than the bus but is a more convenient option. However, buses are the way to go if you want to see different landscapes, interact with the locals, and learn about Nepali culture.
Tragically, long bus trips, flight cancellations, and unexpected delays are commonplace. So add a few extra days when planning your trip and enjoy your adventure.
Table Of Contents
---
---