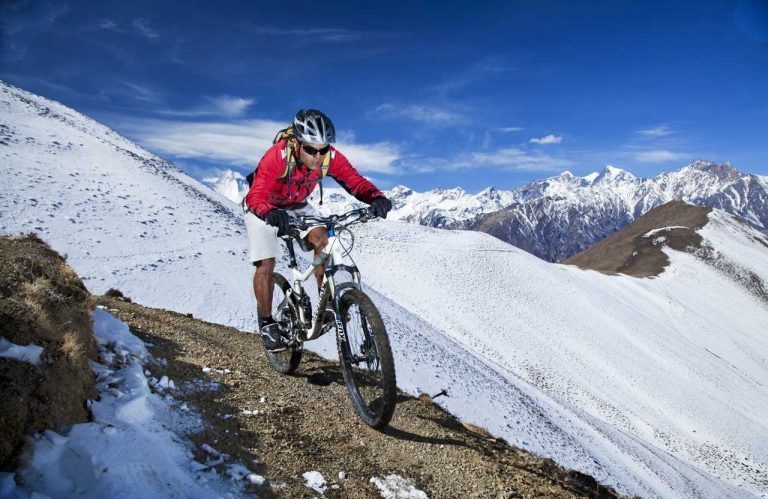 Mountain Bike Tour In Nepal
It's been known for a long time that walking is the best method for experiencing Nepal. Today, though, bike riding is a significant substitute. Both Kathmandu & Pokhara provide excellent trail bike rentals, along with helpful itinerary advice & professionally run excursions. Despite the rapid growth of the sport of riding in Nepal, the routes are quite numerous and very old. so, mountain bike is most useful tourism sectors in nepal and Pedestrian paths span the entire nation, smoothed by many generations of feet traversing the valley or the nation for trade, festivities, or family trips. Nobody can possibly have known that many miles of unexplored routes exist out there.
Instruments:
You'd be more off renting a bike in Nepal rather than bringing your own unless you plan on riding a lot. There are both nice & bad bikes available for getting hired. It is recommended to carry along certain pieces of clothing and extras if you can use them for trekking and rafting.
Mentions of the Tour:
In kirtipur, a medieval city brimming with spectacular religious and cultural sites.
Mountain riding becomes popular start riding a stunning mountain bike from Kathmandu to Dakshina kali passing past a number of temples monasteries parks canyons and lakes.
In Nepal, riding is a popular outdoor pursuits sport that allows visitors to experience the breathtaking natural landscape of the nation's hills & homes all over the nation. Nepal is a country of opposites with the ideal mountain biking tracks to meet the demands of every downhill cyclist.
Mountain bikers' fancies are made of Nepal's diverse landscape. Cycling is an eco-friendly method to explore the country. It is possible to travel the entire length of Nepal by bicycle. It is possible to travel for a very long time to distant locations like the Kanchanjunga and Annapurna Everest regions on old, dirt trails and roads. Geared bicycles are recommended for cycling on difficult terrain. Road bikes can be rented for a single day or longer at a number of bicycle rental businesses located in Kathmandu, Chitwan, Dhading, & Pokhara. These routes crisscross the cities. Food and hotel are conveniently located close to the valley and the major trail.
Mountain biking trip schedule information:
Day 01: Arrival from Kathmandu International Airport & transportation to guesthouse.
Day 02: The largest Buddha tower at Boudhanath, Monkey Temple, a more than 2000-year-old Swyambhunath Temple near Patan, the town of beautiful art, and other sites after experiencing Kathmandu.
Day 03: Bicycle to Nagigompa, Chisapani, and spend the night there.
Day 04: Ride to Nagarkot, one of the best viewing points for the Himalayas, and spend the night there.
Day 05: Bicycle to Dhulikhel Mountains ranges inside the distant east viewed from a vantage motel stay.
Day 06: Dhulikhel towards Kathmandu, joining a traditional performance as well as a Nepali meal at night.
Day 07: It's time to go.
Scenarios:
A group of five to seven people will receive a 10% discount on the overall price.
A group of seven to nine people will receive a 15% discount on the overall price.
A group of ten to sixteen people will receive a 10% discount on the overall price and one group leader is provided without charge.
Best Offer: Arrive during the winter and receive a 10% discount off the entire price.
| | | |
| --- | --- | --- |
| Name of Places | Cost For (Nepalese) | Cost For (Foreigner) |
| Trip of Budhanilkantha by mountain bike | NPR. 12,000 | $125 |
| Exploring Bhaktapur and hiking to Nagarkot | NPR. 8,000 | $82 |
| In Pokhara, take the exclusive road cycling tour to watch the sunrise across Mt Annapurna. | NPR. 12,000 | $112 |
| One-Day Adventure Bike Tour of the Kathmandu Valley | NPR. 10,000 | $110 |
| Travel to Pokhara by Mountain Bike for the Entire Day | NPR. 12,000 | $92 |
| The Kathmandu 1-Day Bike Tour | NPR. 9,000 | $90 |
| Ride a motorcycle in Lower Mustang | NPR. 1,45,000 | $1150 |
| Tour by Bike in Upper Mustang | NPR.1,35,000 | $1010 |
| Tour of a Nearby Village Kathmandu | NPR. 8,000 | $65 |
| Round The Phewa | NPR. 9,999 | $70 |
To know more: Pokhara Mountain Biking Tour – 10 Days
Round Annapurna Biking Tour – 19 Days
---
---