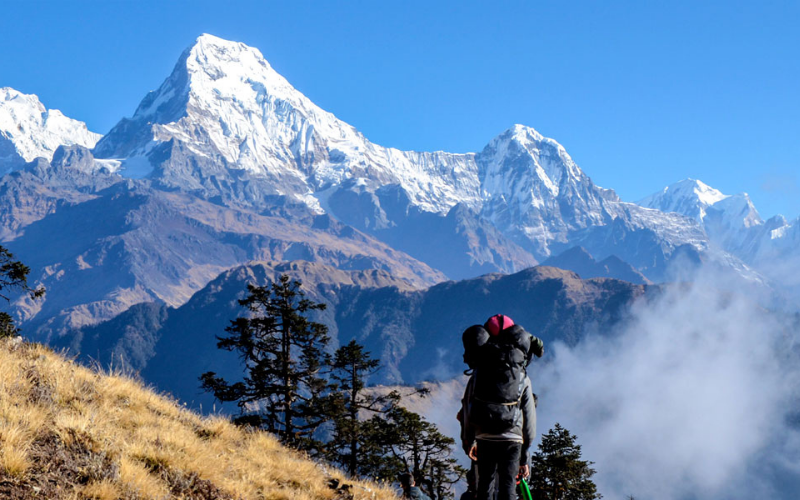 February 7, 2022
Tours in Nepal are one of the most beautiful destinations in Asia! With beautiful people, incredible nature and amazing mountains! We traveled at a slow pace for a month through Nepal. Along the way, we visited busy Kathmandu, hip and happening Pokhara, and charming Bandipur. We also did a twelve-day hike in which we crossed the highest walkable mountain pass in the world.

Tours in Nepal will help you in visiting Nepal to trek, to climb, to see the cultural sites and places of interest in Nepal, or just to hang out in Kathmandu or Pokhara. It's also about first-hand experiences of Nepal as trekkers, tourists, and travel bloggers, as singles, couples, and later as a family with kids. We love Nepal, it's a fabulous destination, but not an easy one. We've seen Nepal before and after the earthquake, we were there during the aftershocks and power cuts, so we can give you a realistic idea of what to expect. We added more unusual destinations in Nepal, Lumbini, Nagarkot, Chitwan, and Bhaktapur, to give you up-to-date useful information on what to see and do in Nepal.

Things to Know Before Traveling To Nepal:

It's more than Mount Everest:
Nepal has the eight highest peaks along with fourteen in the world. Yes, along with Mt.Everest Climbing.Although 75% is covered with mountains. You can also find land with plains, hills, and mountains in one frame. Tours in Nepal will help you to explore more mountains in Nepal.

Birthplace of Gautam Buddha:
The Lord Buddha was born in 623 BC in the sacred area of Lumbini located in the Terai plains of southern Nepal, testified by the inscription on the pillar erected by the Mauryan Emperor Asoka in 249 BC.
Lumbini is the birthplace of Gautambuddha commonly known as Light of Asia around 623 to 480 Bc.

Its place of diverse culture:
Nepal is blessed with a unique diversity of natural beauty and cultural varieties that occupies special places in both Hindu and Buddhist traditions. According to Hindu mythology, the Himalayas are the abode of the gods and are specifically associated with Lord Shiva, one of the three principal Hindu deities. Tours in Nepal will help you to visualize various cultures and traditions.
Explore UNESCO 10 world heritage sites:
As per the UNESCO World Heritage Convention, UNESCO World Heritage Sites are places of cultural or natural significance. Nepal has a total of 4 World Heritage Sites; the Kathmandu valley and Lumbini as Cultural World Heritage Sites and the Chitwan and Sagarmatha National Park as Natural World Heritage Sites. The Kathmandu valley and Sagarmatha National Park were the first two locations to qualify for this designation all the way back in 1979. The Chitwan National Park soon followed in 1984 and the final location, Lumbini, was added in 1997.
As UNESCO World Heritage Sites, each of these places has a wealth of fascinating culture, history, or simply pure natural beauty and diversity to offer. Tours in Nepal take a closer look at the landmarks, monuments, and natural grandeur that have designated these locations to be UNESCO World Heritage Sites. Listed below are the top 10 UNESCO World Heritage Sites in Nepal.
Pashupatinath Temple:
One of the most sacred Hindu temples of Nepal – Pashupatinath Temple is located on both banks of the Bagmati River on the eastern outskirts of Kathmandu.
Bouddhanath Stupa:
The stupa is on the ancient trade route from Tibet which enters the Kathmandu Valley by the village of Sankhu in the northeast corner and continues to the ancient and smaller stupa of Chabahil named Charumati Stupa (often called "Little Boudhanath"). It then turns directly south, heading over the Bagmati River to Lalitpur, bypassing the main city of Kathmandu (which was built later). Tibetan merchants have rested and offered prayers at Boudha Stupa for many centuries.
Swoyambhunath Stupa:
A golden spire crowning a conical wooded hill, Swayambhunath Stupa is the most ancient and enigmatic of all the holy shrines in Kathmandu valley. Its lofty white dome and glittering golden spire are visible for many miles and from all sides of the valley. Historical records found on a stone inscription give evidence that the stupa was already an important Buddhist pilgrimage destination by the 5th century AD.
Changu Narayan Temple:
The ancient Hindu temple of Changu Narayan is located on a high hilltop that is also known as Changu or Dolagiri. The temple was surrounded by champak tree forest and a small village known as Changu. The temple is located in Changunarayan Municipality of Bhaktapur District, Nepal. This hill is about 7 miles or 12 km east of Kathmandu and a few miles north of Bhaktapur.
Kathmandu Durbar Square:
It is also famously called Basantapur Durbar Square and Hanuman Dhoka Durbar Square. Located in front of Kathmandu's royal palace, this spectacular Durbar Square reflects the artistry that prevailed in the past. Kathmandu Durbar Square houses palaces and ancient temples that belong to the periods between the 12th and 18th centuries. The cultural spirit of Nepal centers in Kathmandu Valley and hence Kathmandu Durbar Square gains more prominence.
Patan Durbar Square:
Patan durbar square is situated at the heart of the Lalitpur district preserving a huge collection of fine art and architecture carved and inscribed on woods and metals by our ancestors. This city is very famous for temples, shrines, statues, monuments, festivals, culture, etc. that reflects our ancestor's crafting skills. Even now, if we walk the small alleys of Patan we can hear the tapping of tiny hammers as craftsmen work on various ornaments and idols. Lalitpur is the second largest town of Kathmandu valley and is separated by the Bagmati River from Kathmandu. It is around 5 km away from Kathmandu. One can reach Patan in around 30 mins from Thamel depending on the traffic.
Bhaktapur Durbar Square:
Bhaktapur Durbar Square" the city is also known, is a museum of medieval art and architecture with many examples of sculpture, woodcarving, and colossal pagoda temples consecrated to different gods and goddesses which is 15 km far from Kathmandu.
Lumbini :
Walk in the footsteps of Buddha as you explore the region where he spent his childhood as Prince Siddhartha. The exact spot where Buddha was born is marked here in Lumbini and the site has understandably become one of the world's most important holy sites. Join the millions of pilgrims who have made the journey over two thousand years and feel the power of spirituality for yourself.
Chitwan National Park:
Chitwan National Park is very famous for its Wildlife Safari, Bird Watching, and Tiger Tracking in Nepal. Chitwan National Park is home to One Horn Rhino, Royal Bengal Tiger, Sloth Bear, Leopard along with different reptiles and different species of birds. It is one of the largest playgrounds of wild animals in Nepal.
Sagarmatha National Park:
Sagarmatha National Park was one of the earlier sites to be inscribed onto the World Heritage List and remains a globally iconic place of scenically arresting grandeur. The property has become an increasingly popular tourist destination especially among trekkers and mountaineers who today take advantage of the improved access afforded by aircraft.
Explore Nepali Cuisine:
Nepal is a land of ethnic diversity. More than 125 ethnic groups in Nepal. Nepal with diverse tribes and ethnic groups in different localities has different tastes in food. Even though Western foods are prevalent in Nepal, the craving for local food still remains. Nepalese have their own recipes for that matter. Tours in Nepal help to taste foods that are deliciously mouth-watering and yet healthy. Some of the food includes:
Newari Cuisine:
Here are some must-try Newari foods:
Alu Tama: curry made of potatoes and bamboo shoots.
Hakuchoila: spiced ground meat, broiled.
Senla mu: liver, steamed and sautéed.
Swanpuka: lungs filled and fried.
Bhutan: fried intestine and other abdominal parts.
Main: tongue pieces, fried.
Juju dhau: delicious curd made in Bhaktapur.
Terai Cuisine:
Food in Madhesh (Terai) south of Sivalik Hills refers to mirror cuisines such as Maithili cuisine in the east, Tharu cuisine in the west, Bhojpuri cuisine in the center and near west of Madhesh region of Nepal. Further west, there is Mughlai-influenced Awadhi cuisine—particularly eaten by the substantial Muslim population around Nepalganj.
Tibetian Cuisine:
Tibetan cuisine includes the culinary traditions and practices and its peoples. … It is known for its use of noodles, goat, yak, mutton, dumplings, cheese (often from yak or goat milk), butter, yogurt (also from animals adapted to the Tibetan climate), and soups.
Dal Bhat
Roti
Dido & Gundruk

Hospitality people in the World:
The people of Nepal here are hospitable. We respect people and serve guests as gods.

Trekking and Adventure:
Nepal is heaven for trekking and adventure. We can do mountain climbing, paragliding, rock climbing, bungee and many more. We also offer short treks for travelers as well.

Explore the worlds most beautiful waterfall and rivers:
Nepal is rich in water resources. You have plenty of offers like boating, enjoying nature, rafting and many more.

Paradies for Mountain Junkies:
Nepal offers varieties of mountains to climb. You can climb mountains mostly in spring and autumn. Mt.Everest is the no.1 choice for the mountain junkies.
To find Peace:
Nepal is a land of greenery and peace. As we all know Nepal is the birthplace of Gautam Buddha. Most of the place is covered with vegetation.
Why choose us?
Fully locally owned company
Quality of service and reasonable price
Highly skilled staff
Flexible and customized trip itinerary
100%Customer Satisfaction
Some of the most popular sites in trekking include:
Langtang Helambu Gosainkunda Trek
Stay with us for more info:
Fb Link: https://www.facebook.com/snowydreamworld/
Twitter link: https://twitter.com/snowydreamworld
Instagram link: https://www.instagram.com/snowy_dream_world/
Linkedin: https://www.linkedin.com/in/snowydreamworld/
Pinterest: https://www.pinterest.com.au/Snowydreamworld/
Blogger: https://snowydreamworld.blogspot.com/
---
---