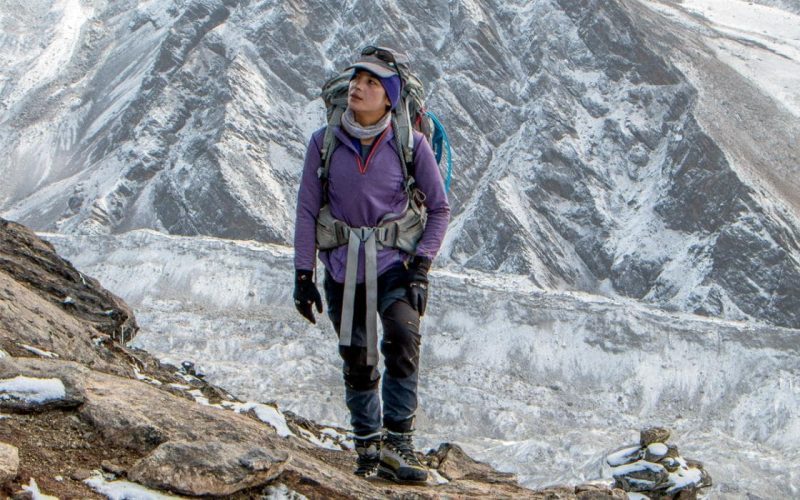 01. A lot of trekking guide training in Nepal.
To be a qualified trekking guide in Nepal, you can take the training program organized by Trekking Agencies Association of Nepal (TAAN) and Nepal Academy of Tourism & Hotel Management (NATHM).The trekking and tour guide training in Nepal held in two different time in a year on the off-season (either in June-July and (December- January)
Minimum qualification to be a Trekking guide in Nepal
You need to first meet the following criteria- SLC or higher level of education, and minimum 2 years of work experience in trekking industry as a porter, porter guide or an assistant trekking guide. Then you need to take a training course that lasts for a month and also pass an examination at the end of the session.
Every guide should be well trained:
To get Knowledge about every historical and ancient story of Nepal Good information about history, culture, architectures and people make more friendly with their tourists.
To get knowledge that how to treat tourist with courtesy, respect and patients. You must have good communicable with tourist. If you know other languages like French, German and Spanish it will easier to be a good trekking guide.
To know how to give first Aid in trekking region.
02. Seven wonders of world located in Nepal
Mount Everest
Mount Everest is the highest of the Himalayan mountains, and—at 8,850 meters (29,035 feet)—is considered the highest point on Earth. Mount Everest is a peak in the Himalaya mountain range. It is located between Nepal and Tibet, an autonomous region of China. At 8,850 meters (29,035 feet), it is considered the tallest point on Earth. In the nineteenth century, the mountain was named after George Everest, a former Surveyor General of India. The Tibetan name is Chomolungma, which means "Mother Goddess of the World." The Nepali name is Sagarmatha, which has various meanings.
The first ever recorded people to climb Everest were Edmund Hillary (a mountaineer from New Zealand) and his Tibetan guide Tenzing Norgay. They climbed the mountain in 1953 and hold the record together. The first records of Everest's height came much earlier, in 1856. British surveyors recorded that Everest was the tallest peak in the world in their Great Trigonometrical Survey of the Indian subcontinent.
Lumbini
Lumbini, the Birthplace of the Lord Buddha. Siddhartha Gautama, the Lord Buddha, was born in 623 B.C. in the famous gardens of Lumbini, which soon became a place of pilgrimage. Among the pilgrims was the Indian emperor Ashoka, who erected one of his commemorative pillars there. Lumbini is the Buddhist pilgrimage site situated Rupandehi district not in boarder of India its real in Nepal. Lumbini Garden, the birth place of Siddhartha Gautama who becomes Buddha Gautama founded the Buddhist tradition.
Boudha Stupa
Boudhanath is a stupa (Buddhist temple) in Kathmandu, Nepal. This is one of the most sacred sites in Tibetan Buddhism outside of Tibet. The original temple was said to have been built by an old woman and her sons, and historians date the current structure to the 14th century CE. Boudha stupa is semicircle shaped and contains the relics and remaining of Buddha. … The stupa is a historical pilgrimage site for all the Buddhists around the world. It was built right after the demise of Lord Buddha during the 5th century AD in the reign of King Manadev (464-505)AD and is the world largest Chhyorten. It is one of the largest stupas in the world.
Pashupatinath
The Pashupatinath Temple (Nepali: पशुपतिनाथ मन्दिर]) is a famous and sacred Hindu temple complex that is located on the banks of the Bagmati River, approximately 5 km north-east of Kathmandu in the eastern part of Kathmandu Valley, the capital of Nepal. The temple serves as the seat of Pashupatinath. Dedicated to Lord Shiva,pashupatinath temple is one of the four most important religious sites in Asia for devotees of Shiva. The largest temple complex in Nepal, it stretches on both sides of the Bagmati River which is considered holy by Hindus.
Fewa lake (Pokhara)
Phewa Tal (Phewa Lake or Fewa Lake) is a lake in Nepal and is the biggest lake in the Pokhara. It is famous for having a lot of domestic and international tourists who visit and sail, swim and fish on the Phewa lake. The shadow of a nearby white mountain can be seen on the surface of the lake. The lake is stream-fed but a dam regulates the water reserve. Therefore, the lake is classified as a semi-natural freshwater lake.
Bhaktapur Durbar square
55 window palace. The Palace of Fifty-five Windows was built during the reign of the Malla King Yaksha Malla in 1427 AD and was remodeled by King Bhupatindra Malla in the 17th century. …
Nyatapola Temple. Nyatapola in Newari language means five stories – the symbolic of five basic elements. …
Bhairava Nath Temple. …
Golden Gate.
Bhaktapur Durbar Square is a conglomeration of pagoda and shikhara-style temples, mostly dedicated to Hindu gods and goddesses grouped around a 55-window palace of brick and wood. … The square in Bhaktapur was severely damaged by an earthquake in 1934 and hence appears more spacious than the ones at Kathmandu and Patan.
Chitwan National Park
Chitwan National Park is one of the premier drawcards in Nepal. This World Heritage–listed reserve protects more than 932 sq km of forests, marshland and grassland containing sizeable animal populations, making it one of the best national parks for viewing wildlife in Asia. Chitwan National Park is famous for the best wildlife-viewing national parks in Asia, where you'll have an excellent chance of spotting endangered One-horned Rhinos, Royal Bengal Tiger, Deer, Monkeys, Wild Boar and up to 544 species of birds.
03. Being one of the most beautiful nation with a lot of trekking mountains in Nepal.
Nepal, a small beautiful country, but surely, Nepal is one of the most beautiful countries in Asia. Nestled in the lap of the gigantic Himalayan Range, tiny land-locked Nepal has eight out of ten highest mountains in the world, including Mount Everest.
The eight highest mountain are:
Mount Everest Sagarmatha Region (8,848 metres).
Kanchenjunga Kanchanjunga Region( 8598 metres).
Lhotse(8,516 metres).
Makalu(8,463 metres).
Cho oyu(8,201 metres).
Dhaulagiri(8,167 metres).
Manaslu(8,163 metres).
Annapurna(8,091 metres).
04. Great possibility of Unhidden research and study throughout the trekking in Nepal.
Trekking has been allowed in Nepal since 1964 when the Nepalese government first allowed foreign visitors to make multi-day hiking tours (Stevens, 2003) and in connection to the country's diverse geographical features, adventure and trekking tourism were seen as viable strategies for rural development (Zurick, 1992). Mountain-related tourism activities are undoubtedly the core of tourism in Nepal, and around 43 percent of all international arrivals participate in trekking (MCTA, 2004). This fact alone indicates that it is of utmost importance to manage this sector with a delicate economical, social and environmental balance in mind.
Nowadays, tourism has brought major changes to the Nepal environment, which has altered traditional patterns of natural land and resource management and put increasing pressure on the general environment. According to Stevens (2003), diverse regionally varying linkages have been suggested between tourism and changing forest use; community management of forest and grazing; the local accumulation of rubbish and pollution from human waste, forest degradation and damage to alpine vegetation. As a mountain destination experiences higher density of tourism development, the potential for conflict between maintaining a healthy natural environment and economic development also increases. This has urged planners and decisionmakers to devise and adopt innovative approaches that seek to strike a balance between tourism (economic) development and nature conservation in the mountains. The research can present the fundamental environmental typology which is regarded as a valuable tool for all actors within the Nepalese tourism sector that wish to increase their understanding of trekking tourists in connection to pro-environmental perceptions and beliefs.
05. A lot of Easy Trekking in Nepal
Easy Trekking in Nepal offers natural and natural heritages. Around 10% of total nepal visitor yearly are choosing the easy trekking in Nepal. Each short treks in nepal provide a great opportunity to experience Nepalese villages, landscapes, people their cultures.
Nepal has alot of beautiful mountains and green hills where we trek. They are locating under the four thousand meters. Nepal hiking in those places, can explore to touch the majestic lakes, amazing waterfall, lush forest – national parks and pristine rivers.
Visiting some of the high hills and the valley has smaller and short treks which we pronounce as easy trekking in Nepal Himalayas. Furthermore, there are several things to do in Nepal before going to trek. You can hike in those villages and the high hills without any previous experience.
Some easy Trekking in Nepal are:
To Know more: Trekking in Nepal
---
---