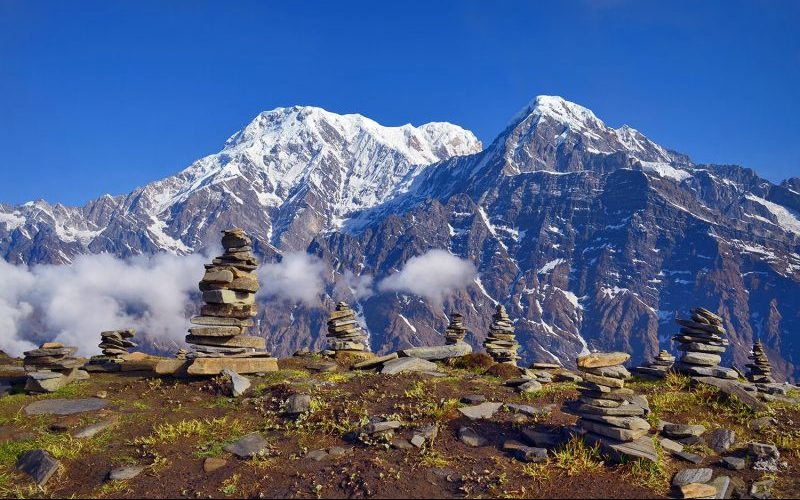 Expedition in Nepal typically refers to a long journey or voyage undertaken for a specific purpose, often exploratory, scientific, geographic, in high mountains. Expedition in Nepal submits to climb high Himalayas as Mt. Everest, Mt. Kanchenjunga, Mt. Lhotse, Mt Makalu, Mt. Choyu, Mr. Manaslu, Mt. Dhammagiri Mt Annapurna, Mt. Amadablam, Mt Pumori, Mt Nuptse, and many others.
Nepal is considered one of the best adventure destinations in the world. Nepal's geography packs an extremely varied landscape into a small area. The immense contrasts in altitude and climates found here support a spectacular mix of lifestyles, vegetation and wildlife. Nepal is probably the only country in the world where you can climb the highest mountains in the world. The core of the mountain complex known as the Himalayas ' abode of snow' is the youngest and highest mountain system of the world. The name is based on the Sanskrit words, "Him" means snow, and "Alaya" means abode.
The 800 km stretch of the Nepal Himalayas is the greatest in the world with eight peaks that rise above 8,000 meters, including the highest in the world, "Mt. Everest". Ever since the country opened its peaks to climbers in 1949, the Nepal Himalayas has become a great theater of mountaineering activity and the drama of success and failure has provided an impetus to thousands of men and women to meet the ultimate challenge. In Nepal, there have been 423 Himalayan peaks ranging from peaks above 6,000 meters to Mount Everest 8848 meters for foreigners. Nepal's Himalayas have been an attraction to many climbing devotees, philosophers, adventures, or researcher lovers.
The difficulty levels of Expedition in Nepal

You must have noticed the different difficulty levels in expedition in Nepal pages. But you might wonder what exactly does the level indicates and on what basis is it measured. If you are planning to travel and expedition in a country like Nepal, then you should properly consider and plan which expedition is most suitable for you. The expedition grade lets you select a suitable expedition for your physical body. Sometimes, strong desire and motivation are not enough, you should be physically fit, fine, and prepared for some extreme expedition trials.

Difficulty levels of the expedition are defined through factors such as:

⦁ Altitude (per day and the highest reach)
⦁ Number of the days of the trip
⦁ Weather and season
⦁ Geography Structure
⦁ Temperature
⦁ Reach of facility

Generally, the difficulties of the expedition are classified into four grades:

1.Easy Trekking
An easy expedition is perfect for the traveler with less or no experience in an expedition. An average person with a regular physique can smoothly do this expedition. This expedition is perfect for family tours as everyone including children, seniors, and parents can complete this expedition effortlessly. Easy expedition can be usually completed in a few days. It does not exceed 4000 meters of altitude which makes it very less dangerous to altitude sickness (HAPE and HACE) and other →Some easy expedition in Nepal are Ghorepani Poon Hill, Everest view expedition, Panchase expedition, Helambu Valley expedition, Rara Lake expedition
threats. This expedition is not usually affected by the weather due to the less altitude reach.
→Some easy expedition in Nepal are Ghorepani Poon Hill, Everest view expedition, Panchase expedition, Helambu Valley expedition, Rara Lake expedition.
2.Moderate Expedition
Moderate expedition could be a bit tough for old people (65+) and kids but an inexperienced with strong physical shape and endurance can complete this trek. Routine exercise and healthy diet is very helpful in this expedition. Most of the moderat expedition is tea house expedition type. The walking distances are bit long and stiff in moderate expedition but it also blesses you with the stunning views of the mighty Himalayan Mountains. The unconditional weather could lead to the change in the itinerary and course of the journey.
→Some moderate expedition in Nepal are Annapurna Base camp, Langtang valley trek, Everest Pikey Trek, Manang Valley Trek.

3.Strenuous/Difficult Trekking
Now we are expedition about the real adventure of the mountains. To complete this third difficulty levels in expedition, it requires solid physique, stamina and sound health. Some basic knowledge in expedition equipment and techniques is helpful and could be life-saving. It requires more acclimatization days for a safe and successful journey. As a result, the duration of expedition. Walking hours are also long (5-7 hours per day).
This expedition could be very dangerous for old people, children and disabled people but as they say age, gender and disability are just a matter of perception; the most important thing is passion and purpose. The facilities are poor on top since there is very little reach of people. Weather change makes strenuous expeditions more risky and hard to complete. Only tea house lodge and basic facilities are available there.
→Some strenuous and difficult expedition in Nepal are Everest base camp, Annapurna circuit, Kanchenjunga expedition, Langtang Ganja La pass expedition
4.Challenging/Extreme expedition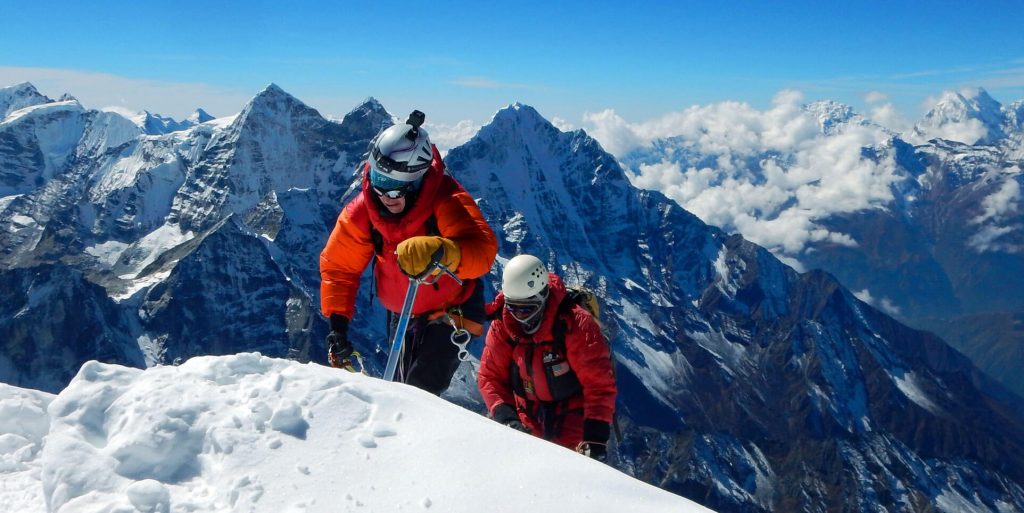 Challenging/extreme expedition the last grade of difficulty for trekking in Nepal. Challenging expedition involves very high altitude trails, high passes, ice climbing and all other extreme mountaineering activities. You should be extremely cautious in this expedition. You need tremendous stamina and past expedition experience in extreme expedition trails. There are many dangers in challenging treks like altitude sickness, avalanche, crevasses (Khumbu Ice Fall), frostbites, snow-blinds, etc. The duration for extreme expedition stretches from 3 weeks to months. Change in weather is extremely dangerous in this expedition.
→Some challenging and extreme trekking in Nepal are the Upper Dolpo trek, Everest high passes expedition, Manaslu expedition, Kanchenjunga expedition, etc.
Food During Expedition in Nepal

Nepal is a multi-religious country where people follow different tradition, culture, religion, and lifestyle. There are thirty-six different ethnic groups in Nepal which are distinct from each other in every way. They have their own language, culture and custom, food, dress, and even festivals. So, today we will talk about the foods of Nepal. Western foods like burgers and pizza have taken the cities and towns by storm. But the taste of authentic food is something that can't be beaten. If you have come to Nepal, you must try enjoying the taste of the authentic Nepali food. So, here goes the list of the must-try food of Nepal while you are in Nepal.
1.Dal Bhat and Tarkari

Dal Bhat and Tarkari is the authentic food of Nepal and is also the main food of Nepali. It is consumed two times a day as lunch and dinner. The food is very rich in carbohydrates, protein and all sort of essentials for the body. The food is served with the combination of many items, some of the regular ones are bhat (cooked rice), dal (pulse soup), tarkari (curry), chutney and other items as per the taste of the person. You might think it is boring to eat the same meal each day twice the time. Well, except for the rice everything gets changes from meal to meal. For example, different vegetables are used in curry, other kinds of pulses are used for dal, non-vegetarian prefer to add meat as one of the items. So, it may sound boring, but as the items get changed every time, they are varied and tasty.
2.Dhindo and Gundruk

Although the Dal and Bhat is the main food of Nepal, dhindo and gundruk is the national food of Nepal. Dhindo is a very old and traditional food of Nepal which is prepared by boiling water and adding flour while continuously stirring the mix. It is prepared from buckwheat or millet flour, but wheat and corn flour are the commonly used one. While gundruk is a fermented leafy green vegetable and it serves as curry in the dhindo and gundruk cuisine.
Eating dhindo and gundruk may not be as easy as eating dal and bhat. It is very sticky in hand and in the mouth too, if you don't know how to eat. It is eaten by making a small ball with fingers, dipping in the curry of gundruk and swallowing. Yes, you heard it right, it is swallowed not chewed. If you chew it, it will stick between teeth.
3.Newari Khaja Set

The Newar community of Nepal is very rich in culture and tradition. And, their foods are also as rich as their customs. Newari Khaja is probably one of the popular and favorite cuisines of Nepal. Newari Khaja comprises many items but in a small amount. Some of the common items are chiura (beaten rice), bhuttan (deeply fried gut), kachila (raw marinated minced meat), hakuchoila (grounded spiced and broiled meat) and takhaa (jellied soup). The khaja set is also served with home-made wine, which makes it even more devouring.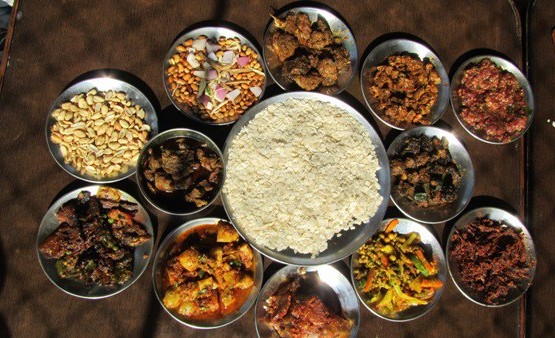 4.Sel Roti

Sel roti is a very popular food item of Nepal. It is a traditional homemade, sweet, ring-shaped rice bread. Sel roti is made from rice flour by adding different flavors as per the taste. It is made by semi-liquid rice flour dough, which is prepared by adding milk, ghee, water, sugar, butter, cloves, cardamom, and other flavors. When the semi-liquid dough is ready, it is deep fried in boiling oil or ghee. Sel roti is prepared mainly during the time of festivals like Dashain and Tihar or the special celebration like marriage, puja or any functions. Sel roti is usually eaten with the curry, meats or aachar. Sel roti has special importance in Nepal as it symbolizes the culture of Nepal.
5.Momo

Momo is also called dumpling in many parts of the world. Momo is the favorite and the popular food of Nepal. Mainly in the valley of Kathmandu, Momo is the most eaten food. They are served in big five stars hotels and the street as well. There are different kinds of momo with different fillings, but the buff (buffalo meat) one is the most famous one. You can eat momo as per your preference on what type of filling you want inside it. There is meat momo, in which buff, chicken, pork and mutton are mostly used. In veg momo, there is cabbage, a carrot which is commonly used. There is cheese momo as well. And, the khoa momo is filled with milk solids mixed with sugar and they are found in the Kathmandu. Apart from the filling, the aachar/chutney is another best part of momo. In Nepal, momos are eaten by dipping a piece of momo in aachar. After trying this food if you like it, then you can take momo class in Thamel and try it at home and enjoy with friends and family.
6.Kheer

Kheer is one of the popular dishes of Nepal. It is rice pudding, but believe me, it is way better than the usual rice pudding you have eaten. It is prepared during the special occasion like birthday, parties or festivals. It serves as the dessert in Nepali culture. Kheer is made by boiling rice (mainly basmati), broken wheat, tapioca or vermicelli with milk and sugar. To add the flavor, cardamom, saffron, cashews, almonds, and raisins are added.
7.Kwati

Kwati is the traditional dish of Nepal which is consumed during the festival of Janai Purnima (usually falls in August). It is eaten as a delicacy and for its health benefits and ritual significance as well. It is prepared by the mixture of nine sprouted beans; they are black gram, chickpea, green gram, soybean, garden pea, field bean, field pea, cowpea, and rice bean. All these beans are cooked together with various spices to make a thick soup. Kwati is very healthy food, and it cures a cold, cough and is one of the best food for women in their maternity leave. As it contains many proteins, it helps weak and sick to retain the energy.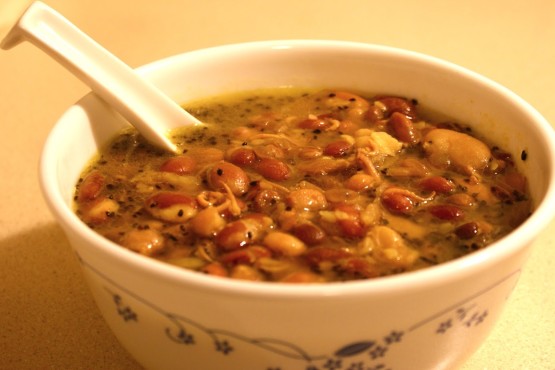 Other items to try:

There is a long list of food in Nepal which you must try. Apart from the above list, other foods you can try are:
–Chatamari: a rice pancake with different toppings like meat, vegetables, and egg.
–Juju Dhau: delicious yogurt in Bhaktapur
–Kinema: serves as curry and is made from fermented soybean
–Bara: lentil based fried with different toppings like meat, egg or just plain bara
–Wo: lentil based cake type of snack
–Sinki: serves as curry, which is made of the fermented root part of carrots
–Yomari: made of rice flour and filled with molasses, khuwa (milk solid) and sesame seed.
–Aloo Tama: curry made from aloo (potato) and tama (bamboo shoots)
Best season for expedition in Nepal

Nepal Trekking Season generally known best as two seasons after falls and after the winter. The following month mid of September to mid of December consider ever best season of trekking in Himalayas. During this period of months have pleasant climate condition not so hot and cold and visibility of mountain are crystal clear. There is another best season of trekking Nepal after winter when the sun getting more warmer in springtime may trekkers to Himalayas can again enjoy comfortable climate conditions. In spring season in Nepal many different types of flowers bloom both trees and ground and it is also the best time to climb up peaks for expedition.
Autumn (September-November)

Autumn season is considered as the best trekking season for the trekking in Nepal. September, October and November are fall in this trekking season in Nepal. During in this season offers excellent weather and tantalizing mountain views. Temperature is moderate, making it a good time for any trekking. The sky is generally clear with outstanding views. Occasionally short storms may dump considerable snow at high altitudes.
Winter (December-February)

Generally, the days are clear in winter season in Nepal. December, January and February months are cold days in mountain. In winter season in Nepal is usually snow fall in the higher elevations with risk winds and colder temperatures. Hence is ideal for trekking in the lower elevation. If you are looking for suitable and incredible scenery, this is a great time to Trek in lower elevations.
Spring (March-May)

Spring season in Nepal is also considered as the best season to do the trekking and mountain climbing. In this season offers different varieties of wild flora blossoming of the giant rhododendrons above 3000m and hunting paradise during this season, which makes higher altitude trekking more comfortable and interesting. It is mildly warm at lower elevations and quite moderate temperature at higher elevation over 4000m, which provides spectacular and excellent mountains View. March, April and May months are fall in this trekking season in Nepal.
Summer (June-August)

June, July, and August months are main rainy season in Nepal and involves monsoon with heavy rainfall which makes trekking conditions unfavorable. This season is ideal time for Trekking and tour to Tibet however, in some Trekking regions of Nepal connecting to Tibet and desert parts of Nepal like Mustang, Nar-Phu valley and Dolpo regions are best season to do trekking which is summer trekking a great alternative behind the Himalayas rain shadow area.
Fitness Level

Trekking presents countless numbers of challenges. Trekking and climbing aren't things you can easily push your body to do. On some trips, you will be carrying heavy loads. Sleeping and eating conditions on overnight trips are not always ideal. Weather is often unpredictable and may disrupt climbing. The mountain environment can be very changeable, and you must be prepared for any weather. It requires a level of physical fitness and ability.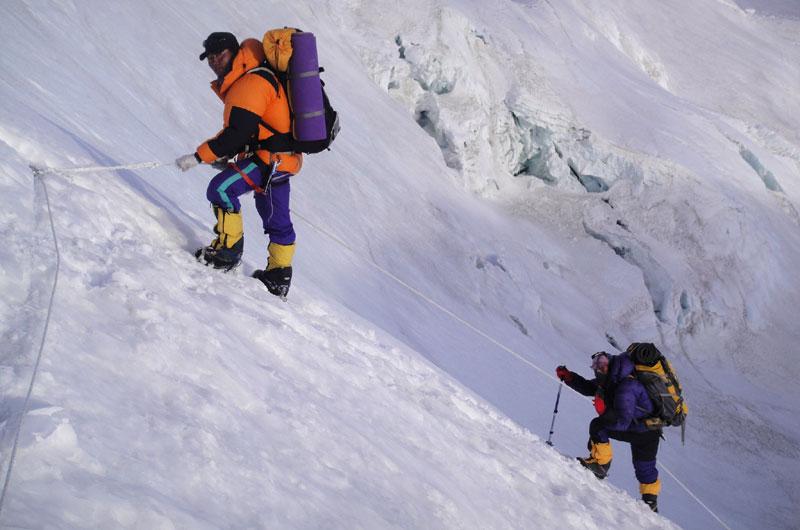 If you are looking for adventure climbing in Nepal, Some easy peaks are:

⦁ Mera Peak (6,476m) Climbers en route to the summit of Mera Peak, one of Nepal's easiest trekking peaks. …
⦁ Island Peak/ Imja Tse (6,173m) Foreigners crossing a crevasse on an aluminium ladder at Island Peak. …
⦁ Lobuche (6,119m) …
⦁ Pisang Peak (6,091m) …
⦁ Kwangde Ri (6,187m) …
⦁ Chulu West (6,418m) …
⦁ Yala Peak (5,700m)

Hope your best memory of Expedition in Nepal
Follow us on:
https://www.expeditioninnepal.com
Fb Link: https://www.facebook.com/snowydreamworld/
Twitter link: https://twitter.com/snowydreamworld
Instagram link: https://www.instagram.com/snowy_dream_world/
Linkedin: https://www.linkedin.com/in/snowydreamworld/
Pinterest: https://www.pinterest.com.au/Snowydreamworld/Tags: Snowy Dream World Treks, Best Expedition in Nepal, Peak climbing in Nepal, Mountaineering in Nepal, Trekking in Nepal
---
---