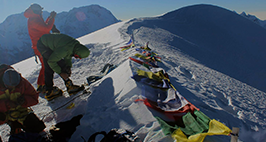 March 6, 2019
Hire Local Guides and Porters
Among the best tips and guides for trekking in Nepal is to hire local guides and porters. The local guides are the ones who know more about the best sights and locations while hiring the local porters can help boost the country's economy. In the far-flung regions of Nepal where trekking often takes place, most of the porters earn their livelihood by carrying the weight of the trekkers up and down mountains. Thus, it is best to hire the local porters as it helps in the uplifting of the local village people. Furthermore, hiring local guides will also enable you to learn about the culture and traditions of the Nepali people as well. They provide valuable insight into the lives of the ethnic people, which can make trekking even more fun.
Always carry local currency while trekking
There are no money exchange centers in the mountains. Thus, carrying local Nepali currency is the best way to buy things from the shops in the mountains, and to pay for services in the guesthouses. Among the best tips and guides for trekking in Nepal, this is the most valuable, as not carrying the local currency can result in a lot of frustrating hassles. Upon your arrival at the airport, you can have your foreign currency exchanged. Moreover, there are also many money exchange centers in and around Kathmandu city where you can change the currency before heading out to trek.
Acclimatize Properly/Beware of Acute Mountain Sickness
Acute Mountain Sickness, or AMS, is a condition that occurs when your body is unable to handle the high altitude conditions. Symptoms of AMS include nausea, headache and vomiting, and in some cases, may even be quite severe. Thus, it is important to be properly acclimatized while trekking. Proper acclimatization is another important tips and guide for trekking in Nepal, especially if you are attempting a high-altitude trekking trip, like the Everest Base camp. Letting your body properly adjust to the high altitude condition is crucial to make your journey a good and memorable one. As such, it is important to incorporate proper acclimatization time in the trekking itinerary and to not rush ahead with the trekking journey.
Stay Hydrated
Among the tips and guides for trekking in Nepal– staying hydrated sounds perhaps the most common practice that one is not likely to miss. However, one often finds that in low-temperature places, how dehydration can easily sneak up on you. That is why staying thoroughly hydrated is important while trekking. Drinking adequate water is not only beneficial to your health while trekking, but it also reduces the chance of getting altitude sick. More often than not, you will have to buy bottled drinking water from the shops in the mountains while trekking. But it is also an equally endearing option to carry water-purifying tablets with you for drinking water. Important to note is that the tap waters in Nepal are not suitable for direct consumption.
Please stay Connected with us:
Mail: info@snowydreamworld.com
Call: +9779851110179
Web: https://www.expeditioninnepal.com
Web: https://www.snowydreamworld.com
Fb Link: https://www.facebook.com/snowydreamworld/
Twitter link: https://twitter.com/snowydreamworld
Instagram link: https://www.instagram.com/snowy_dream_world/
Linkedin: https://www.linkedin.com/in/snowydreamworld/
Pinterest: https://www.pinterest.com.au/Snowydreamworld/
---
---