Gear Equipments
1. MICROSPIKES
If you already own Microspikes, Yaktrax, or another traction system for icy conditions please bring them with you, but note that these are typically most useful in the spring trekking season. Alpine Ascents will provide a pair of traction devices at no additional charge if you do not already own these.2. TREKKING POLES
Collapsible skiing/trekking poles. Three-section, adjustable-height models are preferred.
3. HIKING BOOTS
Waterproof hiking boots designed for hiking in cool to cold conditions. Modern, lightly insulated boots with room in the toe box and good support should be stressed. Models like the Scarpa Terra GTX are ideal.
4. WOOL OR SYNTHETIC SOCKS
Three pairs of medium to heavy hiking socks. These must fit over your liner socks if you plan to wear liner socks.
TECHNICAL CLOTHING
1. SHORT UNDERWEAR
Two to three pairs including the pair you are wearing on Day 1. Synthetic or wool fabrics only – no cotton! Bring comfortable athletic styles based on your needs and preferences (e.g., boxers, briefs, sports bras).2. BASELAYER BOTTOM
Non-cotton baselayer bottoms that should fit snugly without constriction. We recommend lighter weight baselayers rather than heavier fleece-type layers. Wool, wool blend, polyester, or other synthetic fabrics all work well. Be sure your baselayer pants are not constructed from cotton.3. SYNTHETIC T-SHIRT
One or two short-sleeved outdoor t-shirts for hiking on warm days. "Tech tees" work well for this, as they are synthetic and quick-drying.
4. LONG SLEEVE SUN SHIRT
One long-sleeved base layer top. This item must be constructed of a non-cotton material such as merino wool or polyester. Note that light-coloured, hooded sun shirts are strongly recommended for sun protection, and are worn by guides throughout most climbs.
5. SOFTSHELL PANTS
Stretchy, comfortable, non-insulated softshell pants that should fit comfortably with or without your base layer bottoms. Please note that "zip-off"-style trekking pants are too light to be considered softshell pants.
6. HIKING PANTS
One pair of lightweight synthetic hiking pants. Some prefer to bring zip-off styles, though that is not required.
7. HARDSHELL PANTS
Non-insulated, fully waterproof shell pants that must fit comfortably over your baselayer bottoms and softshell pants. Full-length separating size zippers are generally required; occasionally, 7/8th zippers (extending from the cuff of the pant to the upper hip) can suffice but are strongly advised against.
8. SOFTSHELL JACKET
This breathable but wind-and-weather resistant jacket is a key part of a mountaineering layering system. We recommend a hooded model. This layer must fit well over your mid-layer top and baselayer top. Check out our write-up to learn more.
9.MID LAYER TOP
A midweight, form-fitting, lightweight fleece layer for use over baselayers. Hoods are optional but recommended. Grid fleeces generally provide the best warmth-to-weight ratio. Note that very light puffy jackets can also suffice as a mid-layer.
10. HARDSHELL JACKET
A non-insulated, fully waterproof shell jacket with a hood. Must fit comfortably over your base layer, mid-layer, and softshell.
11. SYNTHETIC PUFFY JACKET (OPTIONAL)
Light to midweight puffy jacket. Synthetic insulation is preferred for dealing with wet weather, but down fill can work with careful management. Models with a hood are useful but not required. Down sweaters or synthetic equivalents work well.
12. INSULATED DOWN PARKA
This jacket or parka should be heavily insulated with high-quality down fill. We recommend an overall parka weight between 1.5 and 2.5 pounds. For warmth, a hood is required. Down sweaters or light puffy jackets will not be sufficient.
13. INSULATED SYNTHETIC PANTS
A synthetic insulated pant with full-length separating side zips. Ski pants are typically not appropriate for this layer
HANDWEAR
SOFTSHELL GLOVES
Midweight, lightly insulated gloves for use when mittens are too warm and liner gloves are not warm enough. Leather-palm construction is always ideal for the sake of durability.
One pair of warm shell gloves with insulated removable liners. Excellent for use when conditions are too cold for softshell gloves, but too warm for expedition mittens. We recommend models with durable leather palms.
HEADWEAR
1. WOOL/SYNTHETIC SKI HAT
Non-cotton wool or synthetic hat that covers the head and ears comfortably.
2. SUNGLASSES
High-quality, UV-blocking sunglasses with good all-around protection are recommended. A good fit is critical for comfort- try on glasses to check for a comfy fit and good light blockage. Keep in mind that high-quality lenses are an absolute must due to the mountain sun.
3. HEADLAMP
A modern outdoor LED headlamp offering 200-300 lumens of output. Freshly installed batteries plus spare batteries. Rental headlamps do not include spare batteries. Weather-resistant models are strongly preferred.
PERSONAL EQUIPMENT
1.(OPTIONAL) TOWEL & SOAP
A small packable towel and a small bottle of soap/shampoo can be nice to have, as showers may be purchased at times during the trip.
2.0° FAHRENHEIT SLEEPING BAG
Whether filled with down or synthetic insulation, your sleeping bag should be rated to approximately 0° Fahrenheit and feature a collared hood for warmth. Be sure to include a compression stuff sack. Weather conditions and your body temperature needs may affect what rating of sleeping bag you require. Please call with questions.
3. WATER BOTTLES
Bring two one-litre capacity water bottles. Wide-mouth, hard-sided, plastic bottles are ideal. Nalgene brand bottles are recommended. Do not bring metal bottles, and do not bring soft-sided water bottles.
4. PEE BOTTLE
Collapsible or hard-sided 1 litre Nalgene models can work well. If opting for a collapsible model, please pick a 1.5-2 litre model as it allows for more space while using in your sleeping bag. For longer expeditions and colder mountains (Everest, Vinson, Denali, etc..) we strongly recommend a hard-sided 1 litre Nalgene as the collapsible models tend to crack in extreme temperatures.
5. PEE FUNNEL (FOR WOMEN)
Optional. Practice is critical for the use of this item.
6. TRASH COMPACTOR/CONTRACTOR BAGS
Three heavy plastic garbage bags for use as waterproof packs/stuff sack liners. Trash compactor or contractor bags are made from heavier plastic and stand up well to prolonged mountain use. Alternatively, a reusable waterproof pack liner can be used provided it completely fills the inside of your pack.
7. CAMERA
Optional. Small point-and-shoot cameras (including compact SLRs) are ideal & work well at altitude. Alternatively, many opt to use a smartphone camera. Due to weight & care in the mountain environment, large DSLR cameras are discouraged.
8. TOILETRY BAG
Include toilet paper (stored in a plastic bag), hand sanitiser, toothbrush, toothpaste, floss, and wet wipes. Choose a quantity appropriate for the length of your trip. Female climbers should bring an appropriate amount of feminine hygiene products for the duration of the trip (for international trips, these can be difficult to find last minute in-country).
10. WATER TREATMENT TOOLS
You need to be able to treat four to six litres of water for personal consumption each day. Steri-Pen purification tools have become very popular – they quickly and easily treat water without the addition of chemical tastes. However, some find them temperamental from a battery perspective, even when extra batteries are available. Please bring one set of Aquamira chemical treatment drops as well, in case your Steri-Pen fails.
11. SUNSCREEN
Two to four ounces of SPF 30+ sunscreen. Varieties with zinc-oxide are more protective! Two to four ounces per week is typically sufficient, but several small tubes can offer insurance against loss or exploded tubes. Sunscreen loses SPF rating over time; we strongly recommend brand-new sunscreen.
12. LIPSTICK
Several tubes of SPF 30+ lipstick. As with sunscreen, be sure your lipstick is new.
13. RUNNING SHOES
Lightweight, comfortable running or walking shoes are recommended for off-mountain use and pre-and-post trip travel. In some situations, these may also serve as approach shoes.
14. SMALL PERSONAL FIRST-AID KIT
Basic medical supplies in a compact package. We recommend basic painkillers, Moleskin, first-aid tape, Band-Aids, and anti-septic wipes or gel.15. HAND SANITIZER
Many alcohol-based hand cleaners will work well. Bring a small amount appropriate to the trip duration.
16. FACE MASK
While on the mountain, all climbers are required to have a face mask easily accessible in a waterproof bag (Ziploc, etc.). When social distancing measures are not feasible, such as at a belay, you will be requested to wear your mask. Cloth or surgical masks are both acceptable.
17. HAND AND TOE WARMERS
Bring three sets of each. Please note that toe warmers are different from hand warmers. They are formulated to work in a lower oxygen environment, like the inside of a boot, they also burn out more quickly.
INTERNATIONAL TREK FOOD
All the food for this trip is provided, but bring any snacks or other food and drink items you wouldn't want to trek without!
We recommend bringing a personal selection of energy bars and Gu for the trek.
Please let us know in advance if you have any food allergies we should be aware of.
COVID-19 VACCINATION CARD & NEGATIVE PCR TEST RESULTS
All climbers must bring a copy of their COVID-19 vaccination card and a negative PCR test to participate in the program. An electronic copy OR an original paper copy are both acceptable. For more details, please reference the COVID Protocols listed above in the Logistics tab.
TRAVELING EXTRAS
Please pack several quart-sized Ziploc bags, extra batteries for any electronic device (such as a headlamp or Steri-Pen!), and consider packing outlet adapters depending on your itinerary. An assortment of items to make your travel comfortable and secure will ensure a smooth trip.
TRAVEL LOCK
We recommend two (2) TSA-approved travel locks for your luggage. When travelling or when storing items in hotels or lodges these are useful, offering extra peace of mind.
TRAVEL CLOTHES
Clean 'town' clothing is recommended for use travelling as well as pre-and-post trips. We recommend bringing a comfortable variety of clothing for peace of mind, including some t-shirts.
SMALL DUFFEL
This item can double as carry-on luggage for your flight and is used to store any items you do not plan to take into the mountains. Think light and simple, with 40-50 litres of total capacity. Bring a travel lock for peace
TRAVEL LUGGAGE
For travelling to your start location, we recommend standard luggage with a travel lock. Medium-sized soft-sided duffels will be provided for transporting your belongings during your journey, so this travel luggage may be left behind at your hotel.
First Aid Safety:
As mentioned above, a first aid kit should include:
Diamox
Re-hydration Sachets (Electrobion)
Antiseptic cream
Water purification tablets
Insect repellent
Antibiotics as per doctors' advice
Medicine for allergy
Medicine for infections (Eye, urinary & Abdomen)
Medicine for headaches
Medicine to control diarrhea
Multi-vitamin tablets
Throat Lozenges
Plasters (Adhesive & Blister)
Splint
Pain relief spray, ointment & tablet.
Dressing kit
Thermometer
Oximeter
Betadine
Cold and flu tablets
Hand sanitiser
Food :
Nuts
Trail mix (nuts/seeds/dried fruit)
Oatcakes and nut butter.
Whole grain, sandwiches.
Rice/pasta/quinoa salads (more substantial for lunch perhaps)
Homemade banana bread.
Noodles/Chocolates
Energy bars
Energy gels
Electrolyte replacement drink mix
Snacks
Nepal is a multi-religious country where people follow different traditions, cultures, religions, and lifestyles. They have their language, culture and custom, food, dress, and even festivals. You can try typical Nepali foods which are much more delicious as well.
Dhal Bhat and Tarkari :
Dal Bhat is Nepal's staple dish. It is also known as Dal Bhat Tarkari, or just Tarkari (curry) in many local restaurants. Yet no matter the restaurant, cafe or hotel you order it in the chances are it will never be the same. But usually always very good and very filling. The food is very rich in carbohydrates, protein and all sorts of essentials for the body. So, it may sound boring, but as the items get changed every time, they are varied and tasty.
Dhido and Gundhruk :
Although the Dal and Bhat is the main food of Nepal, dhindo and gundruk is the national food of Nepal. It is prepared from buckwheat or millet flour, but wheat and corn flour are the commonly used ones. While gundruk is a fermented leafy green vegetable and it serves as curry in the dhindo and gundruk cuisine. Eating dhindo and gundruk may not be as easy as eating dal and bhat. It is very sticky in hand and in the mouth too.It is eaten by making a small ball with fingers, dipping in the curry of gundruk and swallowing. Yes, you heard it right, it is swallowed not chewed. If you chew it, it will stick between your teeth.
Newari Khaja set :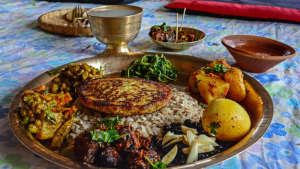 The Newar community of Nepal is very rich in culture and tradition. And, their foods are also as rich as their customs. Newari Khaja is probably one of the popular and favourite cuisines of Nepal. The Newar community of Nepal is very rich in culture and tradition. And, their foods are also as rich as their customs. Newari Khaja is probably one of the popular and favourite cuisines of Nepal.
MOMO :
Momo is a type of steamed dumpling with some form of filling. Momo has become a traditional delicacy in Nepal. Momo is like Mount Everest – one of the symbols of Nepal. Now its popularity has spread beyond national boundaries and, thanks largely to Nepalese communities living abroad, it is growing popular in other parts of the world, too. It is found in every corner of the country and every restaurant and hotel, big or small. So how is momo prepared and what are the ingredients? Momo is made from wheat flour, vegetable oil, chopped onion, garlic, sesame, green chillies, tomatoes, meat (preferably beef), mustard powder, ginger juice and a blend of Nepalese herbal spices.
---
---