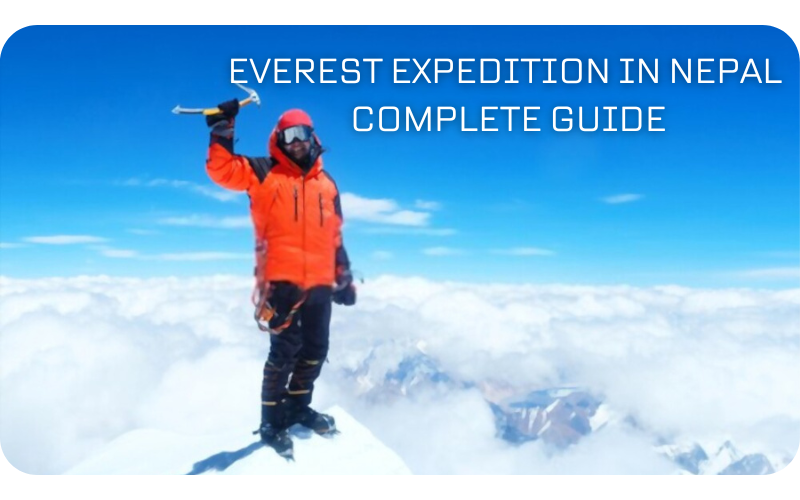 Everest Expedition in Nepal is to discover the unspoilt beauty of the mountains as well as the natural wealth that surrounds the area. Nepal is regarded as one of the top adventure destinations in the world. Since Sir Edmund Hillary and Tenzing Norgay conquered Mt. Everest in May 1953, mountaineering expeditions have become a popular adventure sport around the world. It all boils down to discovering the magnificent and stunning Himalayas, as well as their natural resources.
Nepal's geography supports a diverse environment in a small region. The incredible height and weather changes found here support a wide variety of lifestyles, vegetation, and animals. Nepal is very definitely the only place on Earth where you may climb the world's highest mountains.

The Himalayas are the world's most recent and highest mountain range, commonly known as the "home of snow." Mt. Everest (8848m), Kanchenjunga (8586m), Lhotse (8516m), Makalu (8463m), Cho Oyu (8201m), Dhaulagiri (8167m), Manaslu (8167m).

The Nepal Himalayas have been a major theatre of climbing activity since the country opened its peaks to climbers in 1949, and the drama of success and failure has encouraged millions of men and women to take on the greatest challenge.
International travellers have access to 423 Himalayan peaks in Nepal, ranging from peaks exceeding 6,000 meters to Mount Everest at 8848 meters. Many climbers, intellectuals, explorers, and researchers have been drawn to the Himalayas.
History of Everest Expedition
Several attempts to scale Everest began in the 1920s with British climbers. Sir Edmund Hilary and Tenzing Norgay Sherpa climbed Everest for the first time using the southeast ridge in 1953. Previously, several unsuccessful attempts were made from the northside. There are two primary routes to the peak of Mount Everest.
The standard route is from southeast Nepal, whereas the alternative is from Tibet's north. Technically, climbing Everest is not difficult; but, other problems such as weather and wind, altitude sickness, and unpredictable landslides make it a difficult experience.
To climb Everest, you must have climbing experience and expertise. If you have past climbing experience and a strong desire, you can follow us on this trip with specialists who have years of experience in extreme altitude mountaineering.

I've been a really big fan of climbing. I really got into it when I watched the show 'Beyond the Limit' about climbing Mount Everest.





Zdeno Chara
Training Required For Mount Everest Expedition
While it is easy to fantasize about reaching the summit to the top of the world, climbing and succeeding is a completely different story. The degree of pain and danger involved in climbing Everest is not for everyone. Extreme willpower, discipline, and determination are required for the Everest Expedition in Nepal.
Another need is years of mountaineering experience, particularly above 6000 meters. When it comes to reality adventures, going prepared is never an option.
You'll need all of your physical strength, but your mental state is just as important. Make sure you're motivated and mentally prepared. Achieving Everest will not be simple, so be prepared for stress. To Achieve the goal, Start practising uphill climbs and stair climbing well in advance of your trip. Pay special attention to your cardiovascular fitness.
Accepting that only one in every four climbers returns alive from the Everest trek is frightening. But don't let that discourage you. You will succeed if you receive proper training and maintain good physical and mental health.
What Gears are used in Everest Expedition?
Not only willpower can help to reach the Goal. Gear plays a vital role in it. Gear is the equipment that can make it easy to reach your goal. For the Everest trek, climbers must be well-equipped. The proper gear will eventually guarantee comfort and success. So, Here is the list of Top Gear you should use while climbing the Nepal Everest Expedition.
ICE AXE
ACCESSORY CORD
CARABINER SYSTEM
CLIMBING HARNESS
TREKKING POLES
FOOTWEAR
HANDWEAR
FIRST AID KIT
TECHNICAL CLOTHING
HEADWEAR
Along with these items, remember to bring basic cosmetics. Because there is no restroom on Everest, "poop tubes" and "pee bottles" should come in helpful. Also, be mindful of the waste you generate during your journey. Bring garbage compactors with you because it is required to return with at least 8 kg of trash following a trip.
Climbers must take precautions to avoid frostbite on their legs. It is essential if the weather becomes cloudy. If you do develop frostbite, avoid massaging the affected areas. You might fall ill. Even if you're in a tent, wear comfortable booties. Stretch your toes and fingers every now and then. Ensure that blood circulation is constant. Continue wearing wet clothes, especially wet socks, as these may cause frostbites.


Seasons for Everest Expedition in Nepal
It is essential to choose the right time for a safe and successful climbing Mount Everest South Face. In addition to human and modern tech support, many natural weather conditions, including wind speed, avalanche proneness, and temperature, play a big role on 7000 and 8000-meter mountaineering treks in the Himalayas.
Based on the individual geography, elevation, and characteristics of the mountains, different periods of the year are ideal for a safe climbing expedition in the Himalayas. Autumn is the best time to visit Amadablam, whereas spring is the best time to visit Mount Everest. Similarly, the best time to visit Manaslu is in September/October.
Cost to Climb Mount Everest Expedition
There are two main approaches from which to scale Everest. Here's how much it would cost if you did it from the Nepal side. Your adventure training will cost roughly $8000. It lasts between 12 and 18 months. While Everest is known for being an expensive adventure, the expense of the trek often surprises even seasoned climbers.
The permit and insurance prices range from $11000 to $29500. Proper equipment and materials will cost between $10000 and $29450. It is required to carry additional oxygen, which will cost around $2750. This does not cover your travel fees or the cost of hiring a professional guide and porter.

What is the Right Time for Nepal Everest Expedition?
The weather on Everest is one of the most important factors to consider when embarking on this adventure. There is no getting around that. If the weather isn't behaving, wait till it does. Always check the weather forecast for potential strong winds and landslides.
When it comes to the Everest Expedition in Nepal, it is reasonable to state that every season is difficult.
However, there are other times of the year when the weather is a little less cloudy. It is ideal to climb Everest between April and May, and between September and November.
Food and Nutrition on Everest Expedition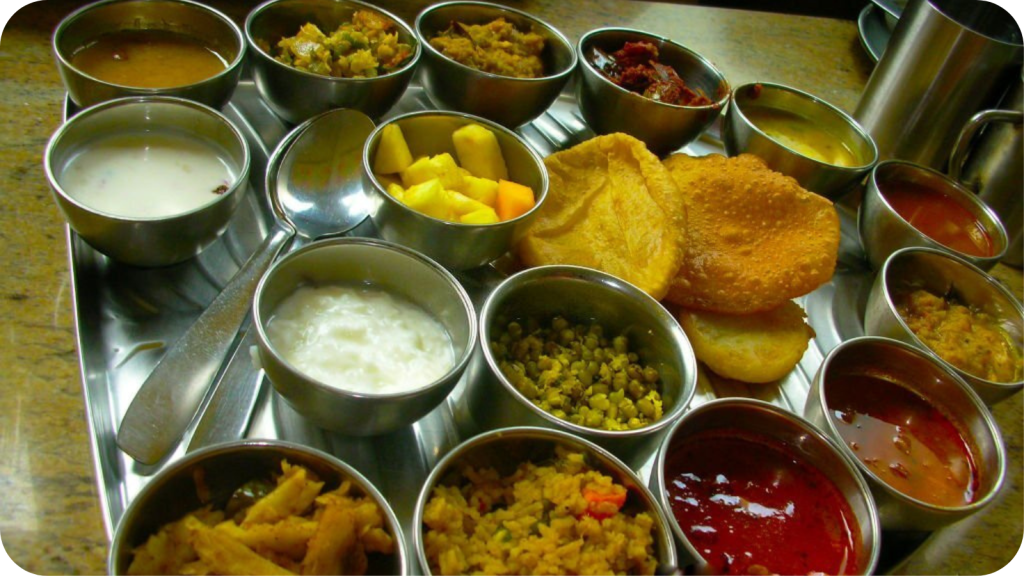 At such a high altitude, your body will exhibit numerous indicators of stress.
Extreme climbing causes the human body to expend a huge quantity of calories. Your metabolism will be substantially altered, and you will require a heavy sugar and carbohydrate diet. It is advised to consume 8000 to 10000 calories every day.
You will have a number of options depending on where you choose to eat. Before travelling to base camp, a good breakfast would include toast, cereals, eggs, bread, porridge, and fruits. At such a high altitude, your body will exhibit several stress symptoms.
Extreme climbing causes the human body to burn a lot of calories. Your metabolism will be significantly changed, needing a high sugar and carbohydrate diet. It is recommended that you consume 8000 to 10000 calories every day.
Depending on where you eat, you will have several options. A good breakfast before heading to base camp might include toast, cereals, eggs, bread, porridge, and fruits.
What Danger to expect on the Everest expedition in Nepal
The quantity of risks and risks that might be expected on the Everest Expedition is thought.

The weather up there is famous, so anything can happen at any time. Avalanches and serac collapse are two of the most catastrophic major disasters. The temperature can decrease dramatically, reducing visibility.

Aside from natural disasters, your body will be subjected to the most severe physical conditions, such as hypothermia, frostbite, blood thickening, fractured bones, exposure, and so on. This is why there is a strict guideline that only experienced alpinists are permitted to take on this task.

Is Mount Everest Expedition Right for You?
The Everest trip brings you to the top of the world. So, if you want to join the trip, you should be informed of what you're getting yourself into.
Permission from the Nepal Government is only available for this expedition if you have prior climbing experience in Nepal on any of the 6000+M peaks. You will also be required to produce a health report showing that your health is adequate.
Another important part of this excursion is the budget. The permit alone costs $11000, and the whole cost could range between $30,000 and $45,000. Many climbers think that budgeting is as difficult as climbing itself.
Aside from physical strength, the Everest trip necessitates mental toughness. The capacity to make the right decision at the appropriate moment and operate as a team is critical to the expedition's success.
During the excursion, you will stay in well-equipped hotels for the first few days. However, after you arrive at the base camp, the lodging options are limited. For about two months, you'll be living in tents and consuming regular/basic meals. So be ready for that.
Climbing Route And High Camps
Our journey to the World's highest mountain "Mount Everest" starts from the time you arrive in Kathmandu from your homeland. We always try our best to cater to all your needs whilst you are in Kathmandu from accommodations to guiding you with regards to the gears that you would require while you are in the mountain. Then on the third day, we shall fly to Lukla the official gateway to Everest and start the trekking journey to Everest Base Camp. It will take a few days to reach base camp as you will need to be well acclimatized to the altitude which keeps on increasing as the days pass.
The actual climbing starts from the day you move from the base camp towards the Khumbu icefall. All the logistics and the technical parts related to the rope fixing and route making are done by our well-experienced climbing Sherpas. The Khumbu Icefall is a steep glacier with an obvious implication of large crevasses and treacherous unstable seracs making navigation complicated and riddled with the high objective danger of falling ice. This is the most dangerous part of the climb.
At the beginning of the climbing period, climbing Sherpa set the route through the icefall installing ladders across crevasses and along vertical seracs ice walls for efficient and easy climbing. These arrangements make the climb of the Khumbu ice fall possible, efficient and relatively safe especially early morning before the sunrise when the ice structure is well frozen. Khumbu icefall is very dangerous in the afternoon due to its western aspect.
There will be a total of four camps on the mountain. The first, at 19,500ft, is situated at the top of the ice fall. This camp functions as an intermediate camp until Camp II which is established at 21,000ft. Camp II will consist of large tents for cooking and dining and several smaller tents for sleeping. Camp II will be our base during the placements of Camp III and Camp IV (23,500ft and 25,912ft respectively).
Camp III, which stands at the head of the cirque on the Lhotse face, will consist of three and four main tents. This camp serves as an intermediate camp that climbers will use to reach Camp IV (high camp) on the South Col. Most of our Sherpa are able to carry goods directly from Camp II to Camp IV, so large amounts of gear are not needed at Camp III to establish Camp IV. Oxygen will be used above Camp III to help aid climbers reaching high camp before attempting the summit. From Camp IV, we travel along the South East Ridge to the South Summit. From here we traverse for a few hundred meters before reaching the Hillary step and then onto the main summit.
Camp I – 5,945 meters
After the Icefall, the climbers arrive at Camp I, which is located at 19,500 feet. Depending on the type of expedition, Camp I will either be stocked by the climbers as they ascend and descend the Icefall or by Sherpa's in advance. The area between Camp I and Camp II is known as the Western Cwm or the valley of silence. As the climbers reach Camp II at 21,000 feet, they may be temporarily out of sight of their support at Base camp. Nonetheless, modern communication devices permit the parties to stay connected.
Camp II – 6,402 meters
As the climbers leave Camp II, they travel towards the Lhotse face (Lhotse is a 27,920 ft mountain bordering Everest). The Lhotse face is a steep, shiny icy wall. Though it is not extremely difficult in terms of technicality, one misstep or slip could cost a climber's life. Indeed, many climbers have lost their lives through such mishaps.
Camp III – 23,500 feet (7,164 meters)
To reach Camp III, climbers must cross the Lhotse Face. Climbing a sheer wall of ice demands skill, strength and stamina. It is so steep and treacherous that many Sherpa's moves directly from Camp II to Camp IV on the South Col, refusing to stay on the Lhotse Face.
Camp IV – 26,300 feet (8000 meters)
As you're leaving Camp IV…it's a little bit of a downslope, with the uphill side to the left. There is typically snow on the ledges to walk down on, interspersed with rock, along with some fixed rope. The problem with the rope is that the anchors are bad, and there's not much holding the rope and a fall could be serious. Fortunately, it's not too steep, but there are a ton of exposure and people are usually tired when walking down from camp. The rock is a little down-sloping to the right as well, and with crampons on, it can be a bit tricky with any kind of wind. There's a little short slope on reliable snow which leads to the top of the Geneva Spur, and the wind pressure gradient across the spur can increase there as you're getting set up for the rappel.
Wearing an oxygen mask here can create some footing issues during the rappel because it's impossible to see over the mask and down to the feet. For that reason, some people choose to leave Camp 4 without gas, as it's easier to keep moving down the Spur when it's important to see all the small rock steps and where the old feet are going.
Navigating down through all of the spaghetti of fixed ropes is a bit of a challenge, especially with mush for brains at that point. One lands on some lower ledges which aren't so steep, where fixed ropes through here are solid. At this point, it's just a matter of staying upright, and usually, the wind has died significantly after dropping off the Spur. The route turns hard to the left onto the snowfield that leads to the top of the Yellow Bands.
Camp IV, which is at 26,300ft on the Lhotse face, is typically the climbers' first overnight stay in the Death Zone. The Death Zone is above 26,000 feet. Though there is nothing magical about that altitude, it is at this altitude that most human bodies lose all ability to acclimate. Accordingly, the body slowly begins to deteriorate and die – thus, the name "Death Zone." The longer a climber stays at this altitude, the more likely illness (HACE – high altitude cerebral edema – or HAPE – high altitude pulmonary edema) or death will occur.
Most climbers will use oxygen to climb and sleep at this altitude and above. Camp IV is the final major camp for the summit push. It is at this point that the climbers make their final preparations. It is also a haven for worn-out climbers on their exhausting descent from summit attempts (both successful and not). Sherpa's or other climbers will often wait here with supplies and hot tea for returning climbers.
From Camp IV, climbers will push through the Balcony, at 27,500 feet, to the Hillary Step at 28,800 feet. The Hillary Step, an over 70-foot rock step, is named after Sir. Edmond Hillary, who in 1953, along with Tenzing Norgay, became the first people to summit Everest. The Hillary Step, which is climbed with fixed ropes, often becomes a bottleneck as only one climber can climb at a time. Though the Hillary Step would not be difficult at sea level for experienced climbers, at Everest's altitude, it is considered the most technically challenging aspect of the climb.
Summit Attempts
After Camps III and IV are established and all our supplies are in place, we return to Base Camp for a rest. At Base Camp, we will organize our summit teams and prepare ourselves for summit attempts. Once we are ready, we return to Advanced Base. If good weather prevails, we move the summit team to Camp III, on day 2/3. Day 3/4 will be summit day for the team. They will start very early that morning and attempt to reach the summit before mid-day.
After the summit, they retreat back to Camp IV and on to Camp III. The next day the team will back to camp II & base camp.
As always, weather plays a major part in all actual summit attempts. We will try as many summits attempts as safely as possible as our goal is to put the maximum number of people on the summit. Guides and Sherpa will accompany all summit attempts and oxygen will be used.
Summit – 29,028 feet (8848 meters)
Once the climbers ascend the Hillary Step, they slowly and laboriously proceed to the summit at 29,028 feet. The summit stands at the top of the world. Though not the closest place to the sun due to the earth's curve, it is the highest peak on earth. Due to the decreased air pressure, the summit contains less than one-third of the oxygen at sea level. If dropped off on the summit directly from sea level (impossible in reality), a person would die within minutes.
Typically, climbers achieving the great summit will take pictures, gain their composure, briefly enjoy the view, and then return to Camp IV as quickly as possible. The risk of staying at the summit and the exhaustion from achieving the summit is too great to permit climbers to fully enjoy the great accomplishment at that moment. If you have any inquiries, please CONTACT US
What is the Right Age for Climbing Mount Everest South Face?
Yes, if you approach it from the Nepalese side. According to Nepal Tourism Board standards, the minimum age for the Everest trip is 16. Fortunately, if you are under the age of 16, you are permitted to climb Everest from the Chinese side.
Conclusion
Overall, the Everest Expedition in Nepal is a massive experience that only the bravest of souls can undertake. Go for it if you're physically, intellectually, and financially capable of such a challenge. But don't forget to give your all and endure as much as you can. Follow the rules and policies as they are written, keeping in mind all potential hazards.
We hope you found this post useful since we attempted to incorporate the majority of the information you'll need to summit to the top of the world.
If you like this information, you can share it with your friends. We have also other related Blogs you can check out :

Qualifying for the Olympic Games was one of those moments where you just cry because it was like you've climbed Mount Everest.


NATALIE DU TOIT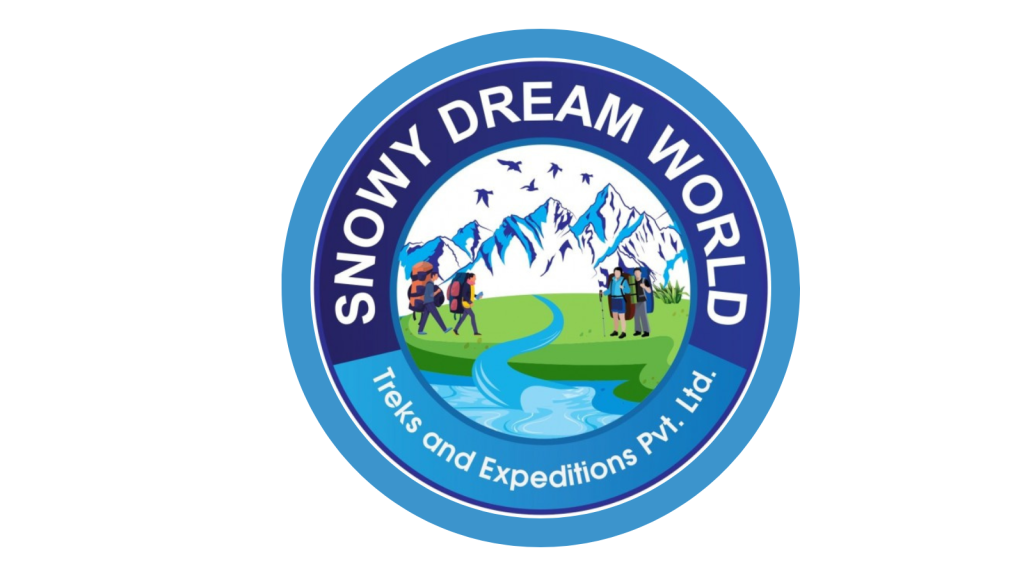 About Author-Rajendra Bhandari

In 2009, Rajendra Bhandari entered the world of travel and tourism. He is the CEO and Founder of Snowy Dream World Trek and Expedition. From humble beginnings as a Porter Guide to the construction of hospitality places and an adventure travel company, he has gone a long way in the tourist sector. In a career spanning more than two decades, he has accomplished more than most people dream of. Along with his professional accomplishments, his unselfish devotion to his community and society has earned him several accolades and distinctions. He has a wealth of expertise having spent more than two decades in the travel and hospitality industries. After finishing high school, he began assisting some trekking guides and was swiftly promoted.
---
---