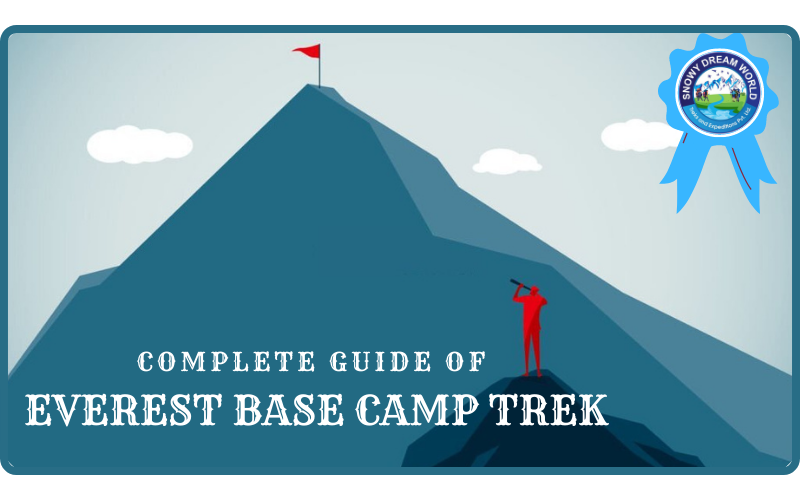 Nepal is home to high mountains like Mt. Everest, the highest peak in the world, along with seven of the world's fourteen eight-thousanders and stunning high altitude treks. Every year, thousands of trekkers from all over the world go to experience the untouched and natural beauty of the Everest Base Camp Trek.
Everest Base Camp Trek, located at an elevation of 5,364 meters, is the ideal site for adventure seekers willing to commit to a tough trip full of amazing views and the fantastic hospitality of local people to explore the mountain museum- the Everest area of Nepal.
The real flavour of nature, home to thousands of sherpas and their culture, festivals, and traditions, including Tibetan Buddhism, a hotspot for endangered/rare flora and fauna, and the home of the world's highest mountain Nothing could have been more spectacular than this, which was largely covered by active mountain glaciers, numerous glacier rivers and many more which we exposed later. Stay tuned.
These 14-day EBC trek guides with Snowy Dream World treks offer you many adventures, thrilling and sometimes you may feel like giving up on the trekking, but I am confident that after the battle, the viewpoint looks like Heavenly.
Overview of Everest Base Camp Trek
Glimpse
An exciting and beautiful 30-minute ride to the world's most extreme airport, Luka Airport.
Explore other peaks are Mt. Lhotse (8,516m), Cho Oyu (8,188m), and Mt. Makalu (8,485m).
In the Everest region, Gokyo Lake is a popular and thrilling adventure trekking path.
Namche Bazaar appears to be the Sherpa capital as well as the most attractive and beautiful village in Khumbu.
Beautiful as well as the popular monastery in the Khumbu -Tengboche monastery
Knowing the culture and lifestyle of Sherpa People
Observe the musk deer, colourful pheasants, snow leopard, and Himalayas Thar fauna.
That panoramic sight from Kala Patthar is remarkable- (5,545m)
Knowing the Khumbu Glacier – seems to be the greatest glacier on Planet (4,900 m)
A lovely and exciting trek along the Dudhkoshi River's bank, passing by the famous Sagarmatha National Park entrance and alpine forest.
Explore Hilary Museum -world-famous Namche Bazaar in the Everest region
Experience the view of the world's highest peaks from a Helicopter
Difficulties Of Everest Base Camp Trek
It is believed that rough routes often lead to beautiful locations. Mount Everest, being the most difficult Himalayan mountain to reach, is also the greatest desire of many climbers who wish to end their careers with such a climbing experience that demands conquering the obstacles that their bodies build.
People who have spent years hiking large distances with a weighted backpack may find the route quite easy. However, even the most experienced climbers may suffer from bad judgement, strokes, heart attacks, or difficulties overcoming altitude sickness.
And it will be tough for ordinary people due to altitude and a lack of fitness. However, there is a way. Climbers must adjust to the reduced rate of oxygen in the air before trying to climb to the top. It is easy to undertake this by going on an Everest Base Camp Trek each time higher.
This allows their body to manufacture more hemoglobin, which transports oxygen from the lungs to the rest of the body and keeps it from dying. They enable their bodies to manufacture more hemoglobin, which transports oxygen from the lungs to the rest of the body and keeps it from dying.
Altitude on Everest Base Trek
Best Seasons For Everest Base Camp Trek
Spring (March 1st to May 31st)
The months of spring are regarded as the best for trekking to Everest Base Camp. The weather in spring is very stable and ideal for high-altitude mountaineering. During this time, the entire Everest Region flowers with seasonal flowers, including Nepal's national flower, the "Rhododendron or laliguras."
Visiting the UNESCO World Heritage "Sagarmatha National Park" this season allows you to see endangered animals, birds, greenery, and other animals. The entire wood is lighted by red rhododendrons, which is only possible in the spring.
The spring season provides spectacular views of high peaks like Mt. Everest (8848 m), Mt. Cho Oyu (8201 m), Mt. Makalu (8481 m), and Mt. Ama Dablam (6812 m), and others.
Autumn (November to January)

The autumn season, like the spring season, is great for EBC Trek. Throughout the winter season, the weather is neither too hot during the day nor too cold at night.
It's slightly cooler in the fall than it is in the spring. But it's a small price to pay for the spectacular views of nearby peaks during this season. Furthermore, light rain may fall in the early days of autumn. However, the reactions to unexpected rainfall are absolutely dangerous to be aware. Many trekkers come from all over the world
Winter(September – November)
The mentioned season is not always a bad season, however due to cold seasons, the temperature drops below -170C (1.40F). It's off-season, and the sky appears to be very clear throughout the winter. Also, winter is just the right time if you want to avoid hustling for space with other travellers. It is thought to be the finest time to visit the mountains.
The nights are quite chilly (below freezing), while the days are frequently sunny and clear.
Monsoon(June -August)
Trekking during the monsoon season is generally a difficult task. The trails become muddy and sometimes dangerous during the rainy season. The monsoon season of the EBC route seems to last from June through September. You can find low traffic in that season. The most difficult part will be getting into and out of the mountains.
There could be no flights in or out of Lukla for days. Lower on the route, you may experience heavy rain, making the climb hard and challenging. We recommend avoiding this time of year if at all feasible. There is a greater risk of landslides, and it is a more difficult season to be in the Everest region.
Food on Everest Base Camp Trek

A well-planned diet is essential when starting on a multi-day adventure. Food is an essential aspect of any trip, especially one to high altitudes like the Everest Base Camp Trek. What and how you eat has a significant impact on your level of performance and enjoyment during the walk. Despite its remote location, the Everest Region is more comfortable in terms of food than other hiking locations in Nepal. You don't have to worry about eating, but it's not as simple as the luxury you have at home. So, what food is consumed on the Everest base camp trek?
Breakfast on Everest Base Camp Trek

Food at a higher level gives you more energy and minimizes your chances of getting acute mountain sickness. As a result, hikers must select nutritious and hygienic Everest Base Camp food. A healthy meal will fill you up and get you ready for the rest of the day's walk.
According to health experts, a healthy breakfast should include porridge or oats, potatoes, bread, tea, coffee, and other items to keep trekkers full until they arrive at the next tea house for lunch. The following are the breakfast options provided at the tea houses along the EBC Trails:
Porridge/Oats
Oatmeal Muesli
Apple Porridge
Milk and cornflakes
Porridge Tsampa
Pudding made with rice
Cinnamon-Spiced Porridge
Porridge Sweetened with Honey
Bread Toasted
Simple Toasts
With eggs, toasted
Toast spread with jam,
toast with jam.
French Toast
Bread toasted with butter.
Egg
Eggs boiled
Simple omelettes
Eggs scrambled
Eggs fried
Omelettes with vegetables
Omelette with cheese
Chapati/Pancakes

Plain Pancakes
Regular Pancakes
Chocolate Flavour Pancake
Apple Pancakes
Egg Pancakes
Mixed within Peanut Butter Pancakes
Cinamon Pancakes
Lunch at Everest Base Camp Trek

Lunch on the Everest Base Camp hike includes carbohydrate-rich foods and healthy grains. Lunch will be served in the afternoon, between 12 noon and 1:00 pm, according to the trek's daily schedule.
Traditional Nepali meal (Dal, Bhat, Tarkari, and Aachar), which means boiled rice, lentil soup, vegetables, and pickle, is usually the best option throughout the trip. Also available is Nepali-style cooked meat, which is optional. You will also find a range of options in these things, such as:
Rice Meals
Veg dal bhat (dal, bhat, achar, Papadum, vegetables, etc)
Non-veg dal bhat (veg dal bhat plus meat item)
Veg fried rice
Egg fried rice
Cheese fried rice
Tuna fried rice
Mixed fried rice
MoMo ( Dumplings)
Veg momo
Buff momo
Chicken momo
Cheese momo
Veg momo fried or steamed
Potato momo
Pizza / Sandwiches
Chicken pizza
Mushroom pizza
Mixed pizza
Grilled cheese tomato sandwich
Grilled tomato egg sandwich
Grilled tuna and tomato sandwich
Spaghetti

Mix with cheese and tomato sauce
Mix with tomato sauce
Mix with veg tomato sauce
Mix with tuna sauce
Besides these mentioned things, the tea house's menu may provide a variety of other options. In addition, the teahouse cuisine will vary depending on altitude.
Dinner on Everest Base Camp Trek
Dinner is offered at the end of the trek's day. It is usually served between 7:30 and 8:00 p.m. in the lodge where you spend the night. After a long day of trekking, hikers require a delicious and weighty meal for energy. Dinner will be identical to lunch and will be based on the lodge menu. You can get either traditional Nepali Dal Bhat or western meals from the menu.


Guides And Porter
The trek to the Everest region is not for the weak of heart. You can, however, reach Everest Base Camp Trek with the assistance of skilled team members, adequate food and drink, rest, and acclimatization. Guides tell you about the entire trek as well as safety precautions; they arrange your food and housing, and they guarantee that all permits and plane tickets are in order. A porter helps you carry your bags normally.
Guides are typically well enough in English. Normally, if you arrange a trip through a local agency, you will meet your guide in Kathmandu and he or she will begin leading you from the first day. But keep in mind that these folks are looking for advice from you. These folks are extremely hardworking, and they will make every effort to get you to your destination.

Packing Tips
The proper packing is essential for the Everest Base Camp Trek. When you are stuck or in a difficult situation, doing the correct thing can save your life. So, what are the essential packing items? The proper packing items are:
Gear Equipment
Microspikes
If you have Microspikes, Yaktrax, or another traction device for icy situations, please bring them with you; however, keep in mind that these are normally most beneficial during the spring trekking season. If you do not already have gripping devices, Alpine Ascents will supply them free of charge.
Hiking Boots
Waterproof hiking boots made for hiking in cool to cold weather. Modern, lightly insulated boots with plenty of toe room and decent support should be emphasized. Scarpa Terra GTX models are perfect. Hiking Boots are the most important packing equipment that is needed. This Equipment can make it easy for you while you are on Everest Base Camp Trek.
Wool and Synthetics Socks
Three pairs of medium to heavy hiking socks. These must fit over your liner socks if you plan to wear liner socks. These socks can save your feet from frostbite. Wool and Synthetics Socks can make you warmer in the Everest region. So, Many people prefer wool and synthetic socks while they trek on the Everest base camp trek.
Baselayer Bottom
Bottoms are made of non-cotton and should fit snugly without being constrictive. We prefer lighter baselayers over heavier fleece-type layers. Wool, wool mixes, polyester, and other synthetic materials are all suitable. Make certain that your baselayer pants are not made of cotton.

Long sleeve sun shirt
One base layer top with long sleeves. This item must be made of a material other than cottons, such as wool socks or polyester. Light-coloured, hooded sun shirts are actually recommended for sun protection and are carried by guides on most treks.

Personal Equipment
Towel and Soap
A small packable towel and a small bottle of soap/shampoo can be nice to have, as showers may be purchased at times during the trip. Soap and Towels can protect from diseases.
Water Bottles
Bring two one-litre water bottles with you. Plastic bottles with a wide opening and a firm side are perfect. Bottles of the Point of view brand are recommended. Please do not bring metal bottles or soft-sided water bottles. Water Bottles are also the main equipment that should be needed. Drinking water is expensive, and the cost rises as you up the mountain; also, purchasing bottles of water generates a lot of plastic garbage
Travelling Extra
Please include many quart-sized Ziploc bags, extra batteries for any electronic gadget (such as a headlamp or Steri-Pen! ), and, depending on your route, consider carrying outlet converters. A variety of goods to make your travel comfortable and secure will ensure a pleasant journey
Duffel Bag
This item serves as carry-on luggage for your flight and is used to keep any belongings you do not intend to bring into the mountains. Think light and simple, with a total capacity of 40-50 litres. Bring a travel lock for peace of mind.
Travel Luggage
We recommend ordinary luggage with a travel lock for travel to your starting point. Medium-sized soft-sided duffels will be given to transport your stuff during your vacation, so you may leave your travel luggage at your hotel. Travel Luggage can make you easy.
There is more Packing Equipment you should have. If you want to know more you can visit Everest Base Camp Trek
Flight and Transportation

The most comfortable option to begin hiking is to fly from Kathmandu to Lukla Airport. You can book your flight directly with the airline if you are travelling alone. If you come from an airline, you will be charged a minimum of $10,000 in free luggage, and the flight for KTM-Lukla-KTM will often cost between 320 and 350 dollars. So I recommend that you join a local travel agency, which will manage your costs. An alternative to flying is to take an 8-9 hour bus ride from Kathmandu to Jiri, then another 5-6 days to reach the Lukla hamlet. Driving costs between $12 and $15.
Insurance to Everest Base Camp Trek
We are not sure when and how problems can come to you while you are trekking. It may be dangerous or it may be normal. But many times there come big problems. Hiking at a high altitude in a remote location, there are obviously very real risks. Everest Base Camp trek is a high altitude trek, and such a climb may be quite dangerous. As a result, if travellers suffer any kind of consequences while trekking, those travel insurance policies may be the best for you. It prevents you from paying a large sum all at once, thus we recommend that all tourists obtain travel insurance before travelling to Nepal for trekking or other activities.
Every insurance provider does not offer high-altitude insurance protection. So, if you are trekking in the Everest zone, make sure you have insurance that covers you up to 6,000 meters altitude, which includes Base Camp and Kalapatthar.
Furthermore, check that your insurance policy covers emergency helicopter evacuation, medical bills, and 6,000m altitude.

Everest Base Camp Trek Cost
The journey itself lasts 10-14 days on average, and the "cost of Everest Base Camp trek generally ranges between $1200 and $1600, which includes domestic flights, trekking permits, Full Board Meal (Breakfast, Lunch, and Dinner), a professional trekking guide and porter, accommodations, and a certificate of completion of the journey." The cost of attending EBCT varies greatly depending on whether it is private or group. If you travel alone, your costs will be higher, however, if you travel in a group, your costs would be lower.
Cost Saving Tips for EBCT
Because of your high attitude, normal products may be too expensive for you. Normal items are also required, however they are not essential to be purchased on the Everest Base Camp Trek. Your money will flow like water if you pay for everything on the Everest Base Camp Trek. So, with our Money Saving Tips, you can realize your dream of standing in front of Mt. Everest. These are some tips to keep in mind before you leave.
Pack energy-boosting foods
Dry nuts, chocolate, and other high-energy foods During the Everest Base Camp Trek, the price of these high-energy bars and light snacks increase up to thrice. As a result, you may have to pay a higher price for it.
Packing enough dry fruits, energy bars, chocolate, and snacks for the Everest Base Camp Trek Complete Guidewill save you money. Please carry an appropriate amount of walnuts, cashews, walnuts, dry fruits, sugar candy, and protein bars. You will feel and realize its usefulness and effect as you go.
Packing such items will not only help you save money but will also replenish your energy level. Above all, purchasing energy snacks in Kathmandu is a great price tip for packing for an Everest Base Camp trek
Dry fruits, protein bars, chocolates, and energy items might help you hike longer by increasing your energy and stamina. Finally, dry fruits and energy snacks play important roles in surviving the Everest Base Camp Trek. Similarly, it is one of the valuable suggestions.
Carry Water Bottle and Purifying System
Although Nepal is a major supply of drinkable water, it is not inexpensive. Water is one of the most expensive items to purchase on the Everest Base Camp Trek. Depending on the altitude, a litre of drinking bottled water costs between 90 and 350 Rupees.
Water cannot be packed with your luggage. Carrying a water bottle and purifying device, on the other hand, is another Everest Base Camp Trek price tip. These tips will definitely help you save a lot of money.
For water Purification, You can have Water purification tablets, chlorine drops, SteriPen, and filtration systems which are popular means to get pure drinking water. You can buy them in Kathmandu. It will cost you Cheap prices.
Guide Book and Map
You will need a map whether you are trekking alone, with buddies, or with a trekking guide. A top quality Everest map or guidebook will come in useful for essential references. More than trekking tracks and routes, maps and guidebooks help with altitude graphs, attractions, and emergency support. As you rise in height, the cost rises. Another cost-cutting idea is to get a guidebook and map in Kathmandu for the Everest Base Camp Trek.
Buying Simcard in Kathmandu
SIM Card is an optional interest for you with an increasing range of cellular networks during the Everest Base Camp hiking. Despite the fact that reception is not always reliable and available, the social media craze forces people to purchase a SIM card. If you buy a SIM card in the Everest region, you may have to pay a higher fee than if you trek to Everest Base Camp. Make sure you acquire a sim card in Kathmandu so that you may take advantage of many great offers.
Buying Gear Equipment
The following equipment is required for the Everest Base Camp Trek. You can't avoid it while you're in the Everest Region. As a result, the equipment in the Everest region is far more expensive than in Kathmandu. Hiring hiking equipment in Kathmandu is ideal if you are not a regular trekker. You can also rent the equipment in Kathmandu and resell it later. It's totally up to you.
Conclusion

Everest Base Camp Trek is one of the most desired dreams of adventure trekkers all over the world. Our 5 Essential Cost-Saving Ideas and Items bundle helps you in reaching Everest Base Camp on a small budget. We all know that the best adventures are never about money. You can collaborate with Snowydreamworld to make your dreams a reality. In short, Everest Base Camp Trek Cost-Saving Ideas not only help you save money but also fulfil your dream adventure on a limited budget.
Permit and Entrance For Everest Base Camp Trek
Trekking permits are required for the Everest Base Camp Trek. EBC Trek requires entry permission to Sagarmatha National Park and the Khumbu area. A Gaurishankar Conservation Area entrance permit and a regular hike from Lukla are also required. This travel guide contains all of the information you need to know about trekking permits for the Everest Base Camp Trek. It contains Luka and Jiri/Salleri trekking permits.
Know more details about permits and Entrance at Everest Base Camp Trek
Message From Snowy Dream World
We give our 100% effort to making this blog. If you follow and know these rules while travelling in Nepal you will have the best journey. If this blog is really helpful for you then you can share this blog with your friends and family to visit Nepal. Also not to forget comment on it. Hope you like this blog. So what do you think about us? If you think yes, then you can CONTACT US
To keep in touch with us, Our social media handles:
Furthermore, here are a few posts similar to the Everest Base Camp Trek. You should check it out.
And, If you Want to know more about the Most Popular treks In Nepal Here are some listed below;
FAQ
How long does it take to complete Everest Base Camp Trek?
It is determined by the trekking route. The Everest base camp hike took 14 days to accomplish. The hiking path changes depending on the acclimatization break and the length of the extended journey included in the trek.
IS Solo Trip Possible For Everest Base Camp Trek?

It is possible to trek to Everest Base Camp on your own, although it is not recommended. It is easy to travel to Namche Bazaar, but after that, the trail becomes less active and it is possible to lose track. The settlement shrinks, new paths emerge, and if something goes wrong along the road, you may feel helpless. As a result, we strongly advise performing this walk in a group or with a guide.
What are the Facilities of the Internet, Electricity and Mobile networks?
The Everest trip is a well-known and popular journey around the world. So, in comparison to other trekking areas in Nepal, the internet, electricity, and cellphone network are quite good. On this journey, there are several ways to access the internet. You can purchase a SIM card in Kathmandu because it is too expensive in Everest Region.
How Hard to Climb Everest Base Camp Trek?
The 14 Day Everest Base Camp Trek is both difficult and rewarding. To be successful on this physically hard trip, some early planning is required. Exercising and jogging on a regular basis for a few weeks before the trip departure is a fantastic idea to improve our stamina. The walk can be completed by novice trekkers with average fitness levels; however, the fitter we are, the more interesting the climb would be.
Is Everest Base Camp cold?
The first few days of trekking in the low Himalayan forest are warm and slightly moderate in temperature, but the second half of the walk takes you right into the cooler and frequently freezing altitudes of the mountain plateau. Temperatures at Base Camp can range from 1 to -15 degrees Celsius on average.
Is EBCT appropriate for me?
The Everest Base Camp Trek route is recommended for first-time trekkers in excellent health and with an average physical condition. The sufficient distance travelled between daily itineraries, consistent altitude rise, and separate rest days ensure that we are properly acclimatized to enjoy our climb to Everest base camp. Altitude sickness can be avoided by walking on high altitude paths with sufficient acclimatization.


---
---