FACTS ABOUT ANNAPURNA BASE CAMP TREK:
Annapurna Base Camp Trek is one of the popular classic treks in the world which takes you to the base of the world's 10th highest mountain. Annapurna Base camp trek is pierced at the cloud-piercing height of 13550ft, in the northern region of Nepal.
It includes spectacular sunrise and sunset views over the Annapurna ranges. Annapurna Base camp trek is considered one of the best short treks in Nepal. This trek incorporates the national flower of Nepal Rhododendron, orchid, Machhapuchhre, massif, and the deepest gorge Kali Gandaki accompanies you during the trek. This trek is very adventurous and the key factor of the trek is to walk slowly and steadily.
If you want to know more and have interested in the Annapurna base camp trek. We also have a Short Annapurna base camp trek, Annapurna circuit trek in our package. You can check them out.
CONTENT :
Highlights of Annapurna Base Camp Trek
Best Season for Annapurna Base Camp Trek
How difficult is Annapurna Base Camp Trek?
Best Food for Annapurna Base Camp Trek
First Aid During Annapurna Base Camp Trek
Types of equipment for Annapurna Base Camp Trek, that you need.
Itinerary for Annapurna Base Camp Trek
HIGHLIGHTS OF ANNAPURNA BASE CAMP TREK :
Kathmandu City Tour :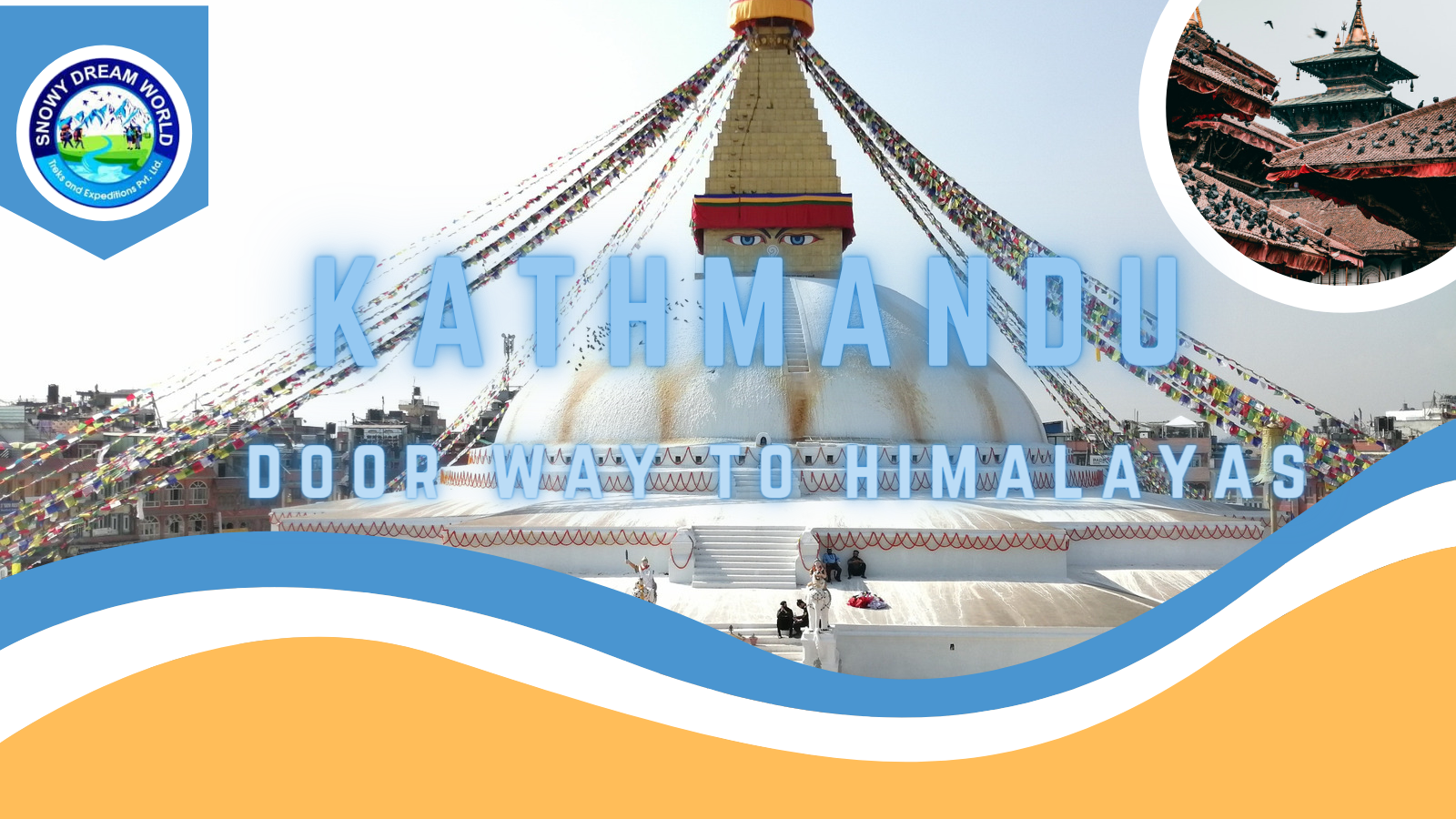 On the following day of your arrival, the guide will take you to a few most popular places in Kathmandu. During the Kathmandu City tour, some UNESCO World Heritage Sites in Kathmandu, Pashupatinath Temple, Boudhanath Stupa, Swyanbhunath Stupa, and Patan Durbar Square, are visited.
These places are the most popular in Kathmandu because of the historical backgrounds, cultural backgrounds, and the ancient monuments full of the masterpiece of art and architecture in Nepal.
Kathmandu- Pokhara/ Luxury Transportation/ Flight :
The luxury Tourist bus Transportation or Air flight, the sceneries, and the beautiful eye-catching stuff mesmerize you. Beautiful mountain views, rivers, landscapes, aerials, lush green forests and hills, and many other things make this travel or transportation memorable and relaxing.
Ghorepani and Poon Hill :
In Annapurna Base Camp Trek, Ghorepani and Poon hill are the best hill stations near Pokhara and the second most popular as well as best viewpoints in Nepal after Kala Panther. The views of the panoramic mountain ranges of Annapurna range and Dhaulagiri ranges, the early morning sun rising from the middle of the Annapurna massif, and Dhaulagiri Massif, as well as the sunset with the supernatural sunlight reflection over the Himalayas, are mesmerizing.
Typical Gurung village with amazing culture:
The Annapurna Himalayas is the home of the Gurung community. Remember that Gurungs are one of the major communities that are a significant part of Gorkhas from the very first battalion to the present missions in different countries.
Gurung peoples are kind-hearted and ethical peoples whose hospitality style is popular all around the countries.
Another beautiful experience of Annapurna Base Camp Trek is the typical villages and settlements in the Annapurna region.
Natural Glimpse of Nepal :
Annapurna Base Camp trek is one of the best treks in Nepal because of its biodiversity and geographic diversity. Numerous floras and faunas are found during this journey. As the journey goes more up, the cold weather where snows are common and frozen water are not big deals. Lower tropical forests and climates, upper tropical forests, and alpine forests and weather can all be enjoyed in this trek. As well, the lucky one can encounter some diverse and rare as well as endemic animals and birds during this trek.
Typical village at Ghandruk :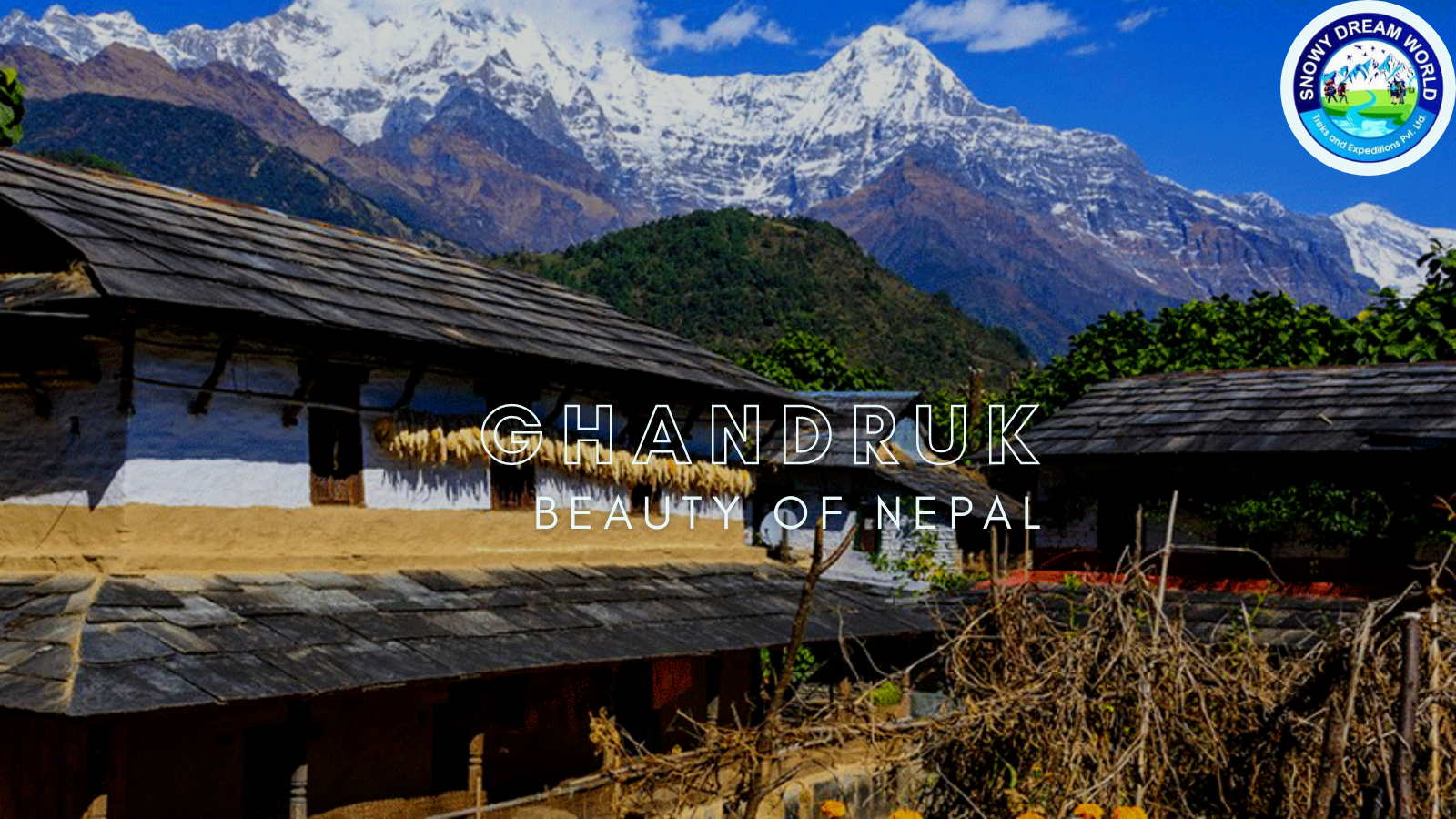 Ghandruk is one of the most popular destinations in Nepal where numerous national and international tourists visit every year. Same traditional beautiful housing, their values and culture, and their typical costumes, the ethnic peoples of the area are so kind and helping nature.
Their hospitality style is still one of the best traditions in Nepal. Annapurna base camp trek journey takes the walkers through this village during the time of journey completion, where you enjoy the final taste of typical Nepal.
Ending all, Annapurna Base Camp Trek is the most popular and best classical trekking in Nepal after Everest Base Camp Trek. We have lots of clients who are repeating the Annapurna Base Camp trek because they want more to explore and experience the uniqueness of the Annapurna region.
If you have any inquiries about the Annapurna base camp Trek or any other treks for Annapurna trekking like Annapurna Circuit Trek, Ghorepani Poonhill Trek, Annapurna Circuit & Tilicho Lake Trek. you can CONTACT US
Best Seasons for Annapurna Base Camp Trek :
SPRING SEASON:
The spring season is the second most popular trekking season in Nepal. The bloomed rhododendron and warmer weather bring more visitors during this time. The weather and climatic condition in the Annapurna region are a little unpredictable in this season or the season can get uncomfortably hot and the climate might turn arid. Hence for doing the Annapurna Base Camp Trek in the Spring season, one must drink plenty of water.
Early spring is a little challenging with average daytime temperature mid-low in the lower altitude. This makes the Annapurna Base Camp trekking a little pleasant.
Reasons why you should go to Annapurna Base Camp Trek in the spring season:
The warmer weather condition in the daytime and night with pleasant environments.
Fewer trekkers trek to Annapurna Base Camp during this season compared to the Autumn season. Thus, you can enjoy every walk of your trek peacefully with pleasant mountain views.
You can see 360 panoramic views standing at different vantage points
You can see Unobscured views of the white snow-capped Mountain ranges
Soak in the splendid natural hot spring at Jhinu Danda
Reasons why you shouldn't go to Annapurna Base Camp Trek in the spring season:
Trekkers can feel hot and get sweat in the lower altitude
views of the mountains can be distracted by the clouds in this season
MONSOON SEASON :
Monsoon Season is also known to be a Rainy season. At this time, the temperature increases in the daytime. The mountain region is cloudy and the lower altitude of the Annapurna region is a little muddy. But, this season clears all the pollutants and dust of the environment and offers fresh green environment views. So you need to prepare for the rain and dress accordingly.
But don't worry, You can still enjoy the world heritage sites and old Buddhist monasteries. You can also interact with the local people and experience their unique lifestyle, culture, and tradition.
Reasons Why you should go to Annapurna Base Camp Trek in the Monsoon season are:
Rain keeps the environment dust and pollutants away and exhales the fresh air.
Fewer trekkers make the trek in this season, which means you can enjoy the beauty of the mountains without crowds.
Trekkers can experience two different geographical conditions of lush green vegetation in the lower and high altitude regions' barren landscapes.
Reasons why you shouldn't go to Annapurna Base Camp Trek in the Monsoon season:
The monsoons in Nepal leads to wet and humid conditions
Normally trails will be muddy and slippery
You will encounter many leeches along the trail
AUTUMN SEASON:
The Autumn season is considered the best trekking season in Nepal. So, Numbers of hikers flock to the region to experience the clean, fresh and vitalized area. In this season, the mountain views are crystal clear. Rainfall is very low and there are more sunny days during this period than any others. The night sky is particularly good at this time you will be amazed by the bright night.
At the beginning of December, the evenings begin to cool quite quickly, especially at the higher altitudes. So, you will need warm layered clothing and a 4-season sleeping bag.
Reasons Why you should go to Annapurna Base Camp Trek in the Autumn season are:
The weather is stable with clear skies and wonderful views
The temperature in uphill and lower mountains reach about 15-24°C
Days tend to be warmer
Reasons why you shouldn't go to Annapurna Base Camp Trek in the Autumn season:
Generally with better weather comes more travellers.
WINTER SEASON:
The winter season is the coldest weather period in the Annapurna region. Normally, the daytime temperatures can range between 9-12°C and evenings can drop to sub-zero temperatures. In winter, mornings are foggy,
So, high passes such as Thorong La in the Annapurna region are usually closed from early December to March.
Despite this, tea house remains open during the cold winter period. So, if you are planning to go trek in this time you will find a warm meal and a place to rest your head each night after the trek.
The coldness of the weather will depend upon how high you want to trek. However, if you stay in the lower hills the temperatures will remain fairly moderate and you will have no problem.
Reasons Why you should go to Annapurna Base Camp Trek in the winter season are:
The skies tend to be clear with perfect views and stunning photography in the winter season.
Amazing visibility makes for great views of the surrounding mountain peaks and landscapes.
You can celebrate New Year or Christmas in the mountains with incredibly friendly people.
Reasons why you shouldn't go to Annapurna Base Camp Trek in the winter season:
Many of the high passes are closed due to the heavy snowfall
Colder temperatures require more planning and equipment
There will be more cloudy.
Conclusion
As all four seasons have their distinct features. Thus, each season provides quite a different trekking experience. If you want to know more, we have made more detailed information about this. Our link:
How difficult is Annapurna Base Camp Trek?
There are many reasons behind the difficulties you observe:
ALTITUDE :
It is a bodily disorder experienced at higher altitudes with symptoms like headache, breathlessness, and nausea. And it can be dangerous. Please remember that it is possible to get altitude sickness above 2500m.
You are more likely to develop altitude sickness. But with precaution and a better understanding of high-altitude trekking, you can enjoy a pleasant trekking experience even at a higher altitude. If you want to know more about Altitude you can know more in this: Altitude sickness
The major symptoms of Altitude sickness are:
Headache
Vomiting
Nausea
Fatigue and loss of energy
Loss of appetite
Shortness of breath
Dizziness
Problems in sleeping
The preventative measures of altitude sickness :
Drink at least 4 to 5 litres of water per day.
If possible, start walking from low altitudes to high altitudes instead of driving or flying. If you are driving or flying to an altitude above 10,000 feet, stay at your first stop for one day before going to the high altitude.
Avoid tobacco, alcohol, other drugs and sleeping pills while trekking.
Always move to a lower altitude if you find the symptoms of altitude sickness
While at a high altitude, eat only a balanced diet that includes more than 70% carbohydrates.
Get information about the early signs and symptoms of altitude sickness and take the action to prevent it from getting worse.
WEATHER AND TEMPERATURE :
Weather and temperature are the major factors that can create a major difficulty in the trekking route as the weather in the mountain region is not constant. The Autumn season is the picking season to trek Annapurna Base Camp because of the good and calm weather conditions in the mountain at this time of the year. The spring season is also the best season to trek in the Annapurna region because the days are very beautiful and charming. In this weather, we can experience the green and beautiful Himalayan flora and fauna, walk through the green terraced field, with the gorgeous and heart-touching views of the snow panted mountain peaks.
LACK OF TRAINING :
Annapurna Base Camp Trek is one of the most legendary, reliable, and classical treks in Nepal as the route of this trek is not steep and difficult. For the new mountain hiker, it can be a challenging trail. So best preparation for the adventure hiking is very essential and important if you are trekking the mountain region for the first time. The training You should take are:
Firstly the trekkers should start training for 6 weeks before making the adventure trip to the Annapurna region to make the body healthy, physically and mentally fit, and fine.
You should walk almost 5-6 hours a day.
If you don't have prior training, you might face several problems catching up with your group or you may even have to quit the adventure trek due to the lack of stamina required and endurance needed to complete the trek.
While preparing for the trek, you can use the weight for the hiking exercise which will help you for carrying your backpack during the walk to the Annapurna Base Camp.
CLOTHING:

The temperature in the mountain area is not always constant. In the early morning, the weather is colder for most of the season, and during sunny days the temperature rises and again in the evening, the temperature falls below 0° centigrade. It is highly recommended that you carry only a small pack of all the needed goods and everyday use items which you need for 2 weeks during trekking. The clothing which u need:
Your clothing should include sweat-absorbent underwear and a shirt, warm clothes that protect you from cold and wind.
There is a list of the clothing that should be carried on your trek.
Hiking shirt
Sweat absorbent/ hiker underwear
Hiking shocks
Hiking pants
Rain protector jacket and trouser
Lightweight Down Jacket
Hiking boots
CONCLUSION:
Preparedness and walking slow and steady are the key factors needed to face all the difficulties and problems of the trek. If you follow these caution rules then, your difficulties will be overcome. Feel and make the unforgettable experience and memories of unique and diverse landscapes, culture, and tradition of the people in the adventure trekking route.
Best Food for Annapurna Base Camp Trek :
These are some foods and drinks that you can have at Annapurna Base Camp Trek. These foods and Drinks can give energy to your body and make you warm also. This food is mainly prioritised in the Annapurna region. So you can choose on your need.
MEALS IN DAY:
| | | |
| --- | --- | --- |
| BREAKFAST | LUNCH | DINNER |
| TOASTED BREAD | RICE MEALS | DHAL BHAT(VEG) |
| BREAD & PANCAKES | MO: MO | DHAL BHAT(BUFF) |
| EGGS | NOODLES | DHAL BHAT(NORMAL) |
BACKPACKS FOODS:
| | |
| --- | --- |
| DRY FOODS | LIQUID DRINKS |
| ALMONDS | WATER |
| CASHEW NUTS | MILK |
| DATES | ENERGY DRINKS |
| FOXNUTS | TEA |
| WALNUTS | GARLIC SOUP |
Finally, eating healthy is not only enough to keep yourself safe on the trek. Besides this, you also need to follow basic hygiene like washing your hands often or using a hand sanitiser.
"PREVENTION IS BETTER THAN CURE"
SNOWY DREAM WORLD
First Aid During Annapurna Base Camp Trek :
Bandages in case of blisters
Tylenol for headaches
Diamox for Altitude sickness
Types of equipment for Annapurna Base Camp Trek, that you need.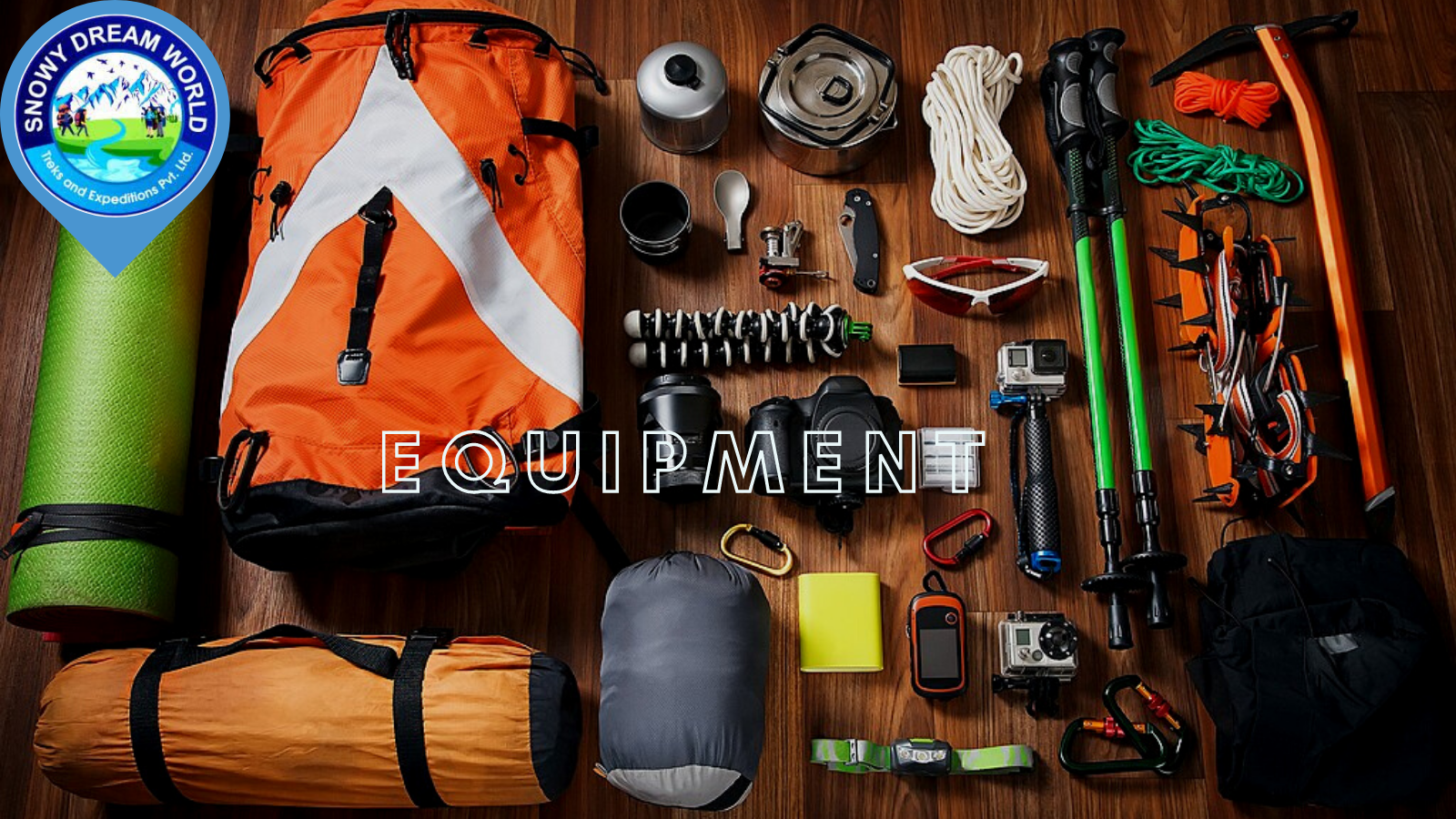 It is very essential to carry the required goods and equipment while trekking in the Annapurna region. The basic equipment and correct goods are very important for the beautiful and safe Annapurna Base Camp Trek. Right packing of goods and equipment is very essential for the Annapurna Base Camp Trek. Sometimes packing too much and too little can also disturb your adventure trip so you need to know how much is too much and how much is too little.
For your convenience, we have prepared the ultimate essential packing list of all the things you need for the trek.
TREKKING POLES
Trekking stick is most commonly used by trekkers while trekking. A trekking stick is useful for trekking. Trekking sticks help trekkers to move on easily. If you don't want to bring a stick with u.Snowy Dream World Trek provides the best sticks for you.
TREKKING CLOTHES
The sun is strong and you will be sweating a lot while hiking so I would recommend something light and breathable like a weather-proof outer-shell jacket together with a fleece jacket and a regular shirt inside. Here are jackets I recommend you get for the trip: flee jacket and beautiful outer shell jacket
GOOD STURDY SHOES:
Make sure you have waterproof sturdy shoes in case of rain. Break into your shoes first if you bought a new one. You wouldn't want to be the hikers with blisters all over your feet at the end of the trek.
DUFFEL BAG FOR PROTER: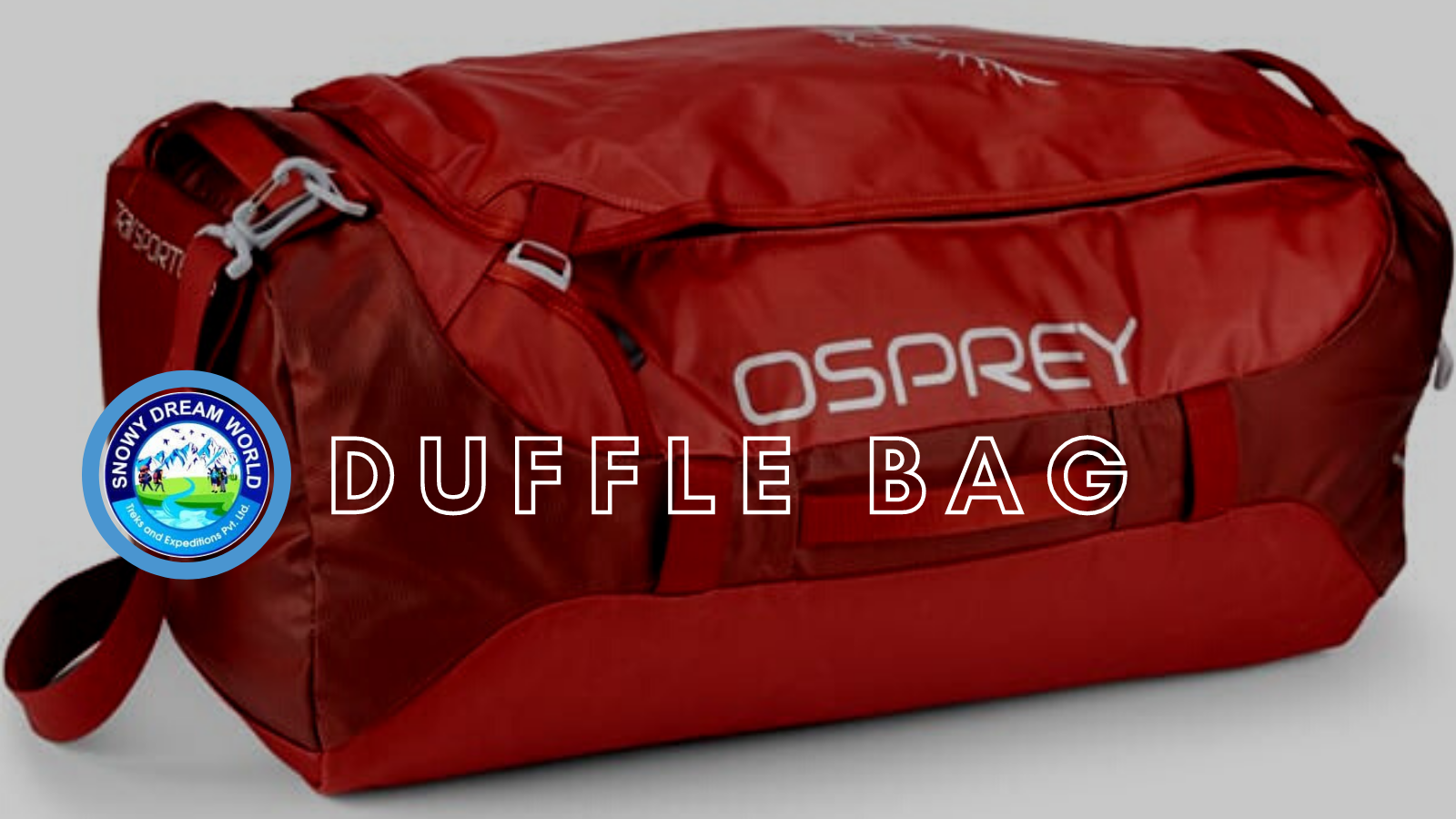 We recommend bringing a duffle bag around 90/100 litres (20-22 gallons) in size. The porters or yaks will be carrying this duffle bag.
Snowy Dream World Trek will provide you with a standard water-proof duffel bag during your trip, which remains yours even after you return from the trek.
SLEEPING BAG:
Some lodges even provide electric bed topping, and blankets are pretty warm unless you plan on sleeping in tents. If you are a frequent hiker, you must have your own sleeping bag. If you don't want to bring a sleeping bag it's ok. Snowy Dream World Trek provide u with a sleeping bag.
ITINERARY FOR ANNAPURNA BASE CAMP TREK :
So, today, I will relive that crazy awesome experience again and show you the beauty of the Himalayas. Here is a complete guide on the Annapurna Base Camp trek and how you can do it in 7 days.
Day 01:Landing in Kathmandu and transfer to Hotel in Kathmandu.
1400m
Three-star rated Hotel
Breakfast
6-7km
When you arrive at Kathmandu airport, our office delegate will be waiting for you holding your name card with our company name. From air terminal, our office delegate will escort you to the lodging. After you register at the Hotel take a rest and relax.
Day 02:Kathmandu to Pokhara by bus.
1400m
Three-star rated hotel.
Breakfast
6-7 hours
After the well rest minute at Hotel of Kathmandu head towards Pokhara which takes a 6 to 7 hr drive. Pokhara is situated in a beautiful valley at the foot of the Machapuchre(Fishtail). From Pokhara, you will get to see staggering views of the machapuchre and other snowy capped mountains. This city is very extraordinary than Kathmandu as it has a lot of beautiful attractions and is near the mountains. This delightful city gives the most interesting exercises like short strolls around lakeside or bike rides around the city, you can swim or kayak on Lake Phewa or simply watch the last beams of the sun rays over the plunge in the mountains that hold the lake. Along the lakeside street, there is a ceaseless stretch of little lodgings.
Day 03:Pokhara to Nayapul via Vehicle/Van the Trek to Tikhedhunga.
1480m
Best lodge Available.
Breakfast, Lunch, Dinner.
4 hrs.
We start our trek at Nayapul following an hour's drive on a private vehicle from Pokhara. After a 15-minute walk along the banks of the Modi Khola, we reach Birethanti (1,015 m), an extensive town with numerous shops and teahouses. From that point, the trail proceeds through the village and pursues the north bank of the BhurungdiKhola.We will reach Tikhedhunga for an overnight stay.
Day 04:Trek Tikedhunga to Ghorepani.
2870m.
Best lodge available.
Breakfast, Lunch and Dinner.
6hrs.
You will take an early morning breakfast and then your trekking begins. You will go by a little town named Tikhedhunga (1,577 m). we proceed towards the steep elevated climb to Ulleri, an expansive Magar town at a height of 2,070 m. The trail rises all the more delicately starting here, through fine woodlands of oak and rhododendrons, towards Banthanti at 2,250 m. At that point, we trek towards Nangethanti(2,460 m). Following an hour walk, we reach Ghorepani (2,840 m). Ghorepani is possessed by the Magars community. They have their own kind of culture, convention, and way of life. The trekking trail up to Ghorepani is a difficult one. It is likewise loaded with normal landscapes like the green lavish timberland of excellent oak and rhododendron backwoods. Here we going to have an overnight stay.
Day 05:Move to poonhill (3210 m) and Trek to Tadapani.
3210m.
Best lodge available.
Breakfast, Lunch and Dinner.
6 hrs.
Today, all around promptly toward the beginning of the day, we begin an hour climb to Poon Hill at a height of 3,210 m where you can enjoy the stunning panoramic view of snowy Dream World, incredible mesmerizing view of the sunrise over the high mountains and best valley view. It also explores the incredible views of Mustang, Pokhara and more than 20 high mountains. We come back to Ghorepani for breakfast before keeping, climbing consistently through the blooming Rhododendron Forests. We then, proceed towards tadapani, trekking through the open fields and dense forests. On the trip, you can view the amazing Annapurna South and the Manaslu range. After, we make a move along the edges, and through pine and rhododendron woods, towards Deurali (2,960 m), follow the stream as it jumps and bounces down cascades, and proceed down for a few hours, we reach Tadapani where we stay in a teahouse which explore the dazzling views on Annapurna South, Machapuchre and down the valley to the skyline.
Meals included:
Accommodation included: Best Tea house Available
Day 06:Trekking Tadapani to Chhomrong.
2110m.
Best lodge available.
Breakfast, Lunch and dinner.
5 hrs.
The day begins with a steep downhill through rhododendron woodlands. Our way begins down the hill for around three hours, through rhododendron timberland and dashing mountain views through the trees and some villages far around on your way. After, the trail eases as we reach Gurjung which is the town of the Gurung community. From here it is an easy to trip to Chomrong at a height of 2,140 m.
Day 07:Trek Chomrong to Doban.
2505m
Best lodge available.
Breakfast, Lunch and Dinner as per our deals.
6hrs.
You will take breakfast and begins your departure from chomping and We ascend through the Stoney trails leading alongside Chhomrung village.AS we walk along to the Chhomrong River we cross the suspension bridge. On the way to Sinuwa, we enjoy the amazing views of the Annapurna IIIand the Mt. MachapuchhreWe head towards higher Sinuwa and then we reach Dovan and overnight stay at Dovan.
Day 08:Trek Doban to Machhapuchhre Base Camp.
3700m
Best lodge available.
Breakfast, lunch, dinner.
5 hours.
Trail proceeds towards to Himalaya Hotel. Around one hour strolling from here, there is a massive rock called Hinko cavern. Between Hinko cavern and Deurali, it is the territory of stones and low scours (no trees). It is an indication of an avalanche area. After Deurali the trail crosses a few streams towards Machhapuchhare base camp.
Day 09:Trek MBC to Annapurna Base Camp(4130m) -2 and a half hour
4130m
Best lodge available.
Breakfast, lunch and dinner.
2 and half hours.
You will pursue the ablation valley, which is a passage like empty created between the icy mass and the mountain flank. you can enjoy stunning views of the splendid Himalayas; Mount Hiunchuli (6441m.), Annapurna III (7555m.), Annapurna South (7229m.), Annapurna I (8091m.), Gangapurna (7454m.) and Machapuchhre (Fish Tail (6997m.)
Day 10:Trek A.B.C to Bamboo (5 hours)
2345m
Best lodge available.
Breakfast, lunch and dinner.
5 hrs.
We pass a similar trail down today. The trail drops by 1,700 m to the bank of Modi Khola to Bamboo at 2,345 m. There is just a single course all through the ABC trek, and today we return the way in which we came. Bamboo is 1,600m lower than ABC so you ought to be set up for a hard day on your knees. The views are delightful and it is additionally fascinating to see the adjustment in landscape from the snowy capped rocks of the base camps, necked like steep Mountains, descends later into rhododendron and bamboo dense woods. Here are a couple of teahouse/lodges accessible for overstay night.
Day 11:Trek Bamboo to JhinuDanda (1610m), NaturalHot spring-5 hour
1610m
Best lodge available.
Breakfast, lunch and dinner.
5 hrs.
We pursue a similar trial until Chomrong. When we have passed Khuldighar, there is an exploratory sheep Farm. The trail proceeds through rhododendron and bamboo fields. Slide to Chomrong and keep on joining hot spring where we can enjoy a hot spring shower. Around 20 minutes walk downhill from Jhinu are some hot springs (about 105°F) where you can relax and relieve your muscles. Better regard to wear a swimming outfit in the hot springs.
Day 12:Jhinu to Nayapul-Pokhara (4-hour trek and 1-hour drive to Pokhara)
Three-star rated Hotel
Breakfast.
4 hours.
1 hrs.
From Jhinu we stroll along the right side of Modi Khola for 4.5 hrs to Birethanti which is one of the easiest and most relaxing walks of the whole trek and reach Nayapul. Then we drive back to Pokhara and you are taken to the hotel.
Day 13:Pokhara To Kathmandu by Bus.
Three-star rated Hotel
Breakfast
6-7 hours.
After the night stay, we will go to Kathmandu on a transport venture which will take around 6 to 7 hours of drive,30 minutes of flight (You will be transported as per as the booking deal)
Day 14:Departure from Nepal according to time.
The trekking comes to an end. A representative from the company drop u off at the airport around 3 hours before the scheduled flight.
MAP OF ANNAPURNA BASE CAMP TREK
MESSAGE FROM SNOWYDREAMWORLD :
We give 100% effort to this blog. we try our best to give you information about this blog. so, I hope you like this blog and get more information about the Annapurna base camp trek. If you like this blog you can share this blog to your friends. You can see our other blog also. We have been organizing a lot of adventure activities like Trekking in Nepal, Nepal Peak Climbing, Expedition in Nepal, Rock climbing and many more.
---
---